If you are planning to work in Oman or if you have just arrived here in the Sultanate, one of things that you have to consider is the dress code. As part of a Muslim country, the people of Oman tend to be more traditional and conservative when it comes to clothing.
In your home country, perhaps you are used to dressing in a certain way. But upon arriving here in Oman, keep in mind that the Omani people have their own beliefs and ways of doing things, including how men and women should dress in public. In this article, we will talk about the dress code in Oman, and also offer some "fashion" recommendations for expats.

How to Dress in Oman for Expats
The dress code in Oman is less strict for men, although male expats should keep the following guidelines in mind:
When out in public, men are advised to wear long-sleeved tops and pants.
Shorts are acceptable, although long pants are more preferred.
Men's tops and t-shirts must cover their shoulders.
Meanwhile, these guidelines are recommended for female expats:
Women are advised to wear loose clothing.
Their shoulders and arms must covered at all times.
They should avoid wearing strapless tops and dresses.
Dresses and skirts should be knee-length or longer.
Wearing long pants is also acceptable.
In addition, women are also advised to carry a shawl in their bag at all times. They can use this for covering their hair, especially when visiting religious and conservative areas.
Oman Dress Code for Tourists
The above rules apply to residents as well as tourists in Oman. If you are a tourist, remember that following the dress code is an essential way of showing your respect for the local culture.
Other than the guidelines already mentioned, here are a few more tips:
Avoid wearing ripped jeans, army fatigues, or T-shirts with inappropriate words or images.
Elaborate piercings may be frowned upon in conservative areas.
Muscat Dress Code
So far, we've been talking about the dress code for men and women in general, in the sense that these rules apply to the entire Sultanate of Oman. That being said, everyone must remember that some areas may be more conservative than others.
For instance, the people living in rural areas are usually more traditional, hence more "conservative" than those living in Muscat, the capital city of Oman. In any case, whether you're staying in the city or visiting a rural area, it's still important to stick to the dress code.
Traditional Dress of Oman
Just like in any other country, the Sultanate of Oman has traditional clothing for men and women. Most Omani people wear these daily, but most especially during special occasions. Keep on reading to learn more about them!
National Dress of Oman for Men
The traditional dress for Omani men is called "dishdasha," a long-sleeved, ankle-length, and collarless gown. It usually comes in white, although there are other colours, too, like brown, black, and lilac. As for accessories, the men wear a type of turban called the "muzzar."
During formal occasions, Omani men sometimes carry a cane called "assa" and a dagger known as "khanjar." The khanjar is a ceremonial dagger that is considered a significant symbol of "male elegance" in the Omani culture.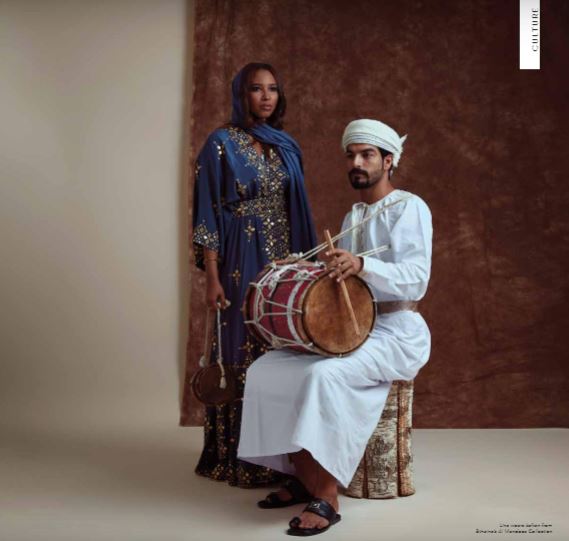 National Dress of Oman for Women
Typically, Omani women wear a dress called "sirwal," which is worn over pants or trousers. They also wear a "lihaf" or headdress, which covers the face. Some women wear a headdress that covers their entire faces, showing only their eyes. The sirwal and lihaf comes in many different colours, patterns, and materials — depending on the region.
To complete the traditional outfit, the women wear gold jewelry and put on some make up, too. The traditional footwear is a type of wooden platform shoe; although these days, most women wear sandals instead.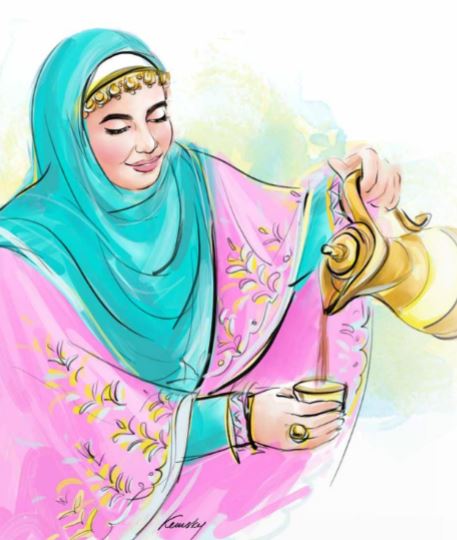 Frequently Asked Questions
1. What is the Oman Dress Code for Visitors?
As mentioned earlier, the recommended attire for men are long-sleeved tops and pants. The general rule of thumb is to wear clothes that cover the shoulders. And although shorts are generally acceptable, long pants or trousers are still preferred.
Meanwhile, women are advised to wear loose clothing, with arms and shoulders covered at all times. Skirts and dresses must be knee-length or longer; long pants are also acceptable. Women are advised to avoid wearing strapless dresses or tops.
2. How do People Dress in Oman?
Generally speaking, the people of Oman dress conservatively. Hence, residents, tourists, and visitors are advised to do the same. Wearing short skirts and dresses, strapless or low-cut tops, and other revealing clothing is NOT recommended.
3. How to Dress When Visiting a Mosque?
When visiting a mosque, men are advised to wear t-shirts and long pants; however, shorts are not allowed. Meanwhile, women are advised to wear long-sleeved tops, with long pants or ankle-length skirts. They should also cover their hair with a scarf when visiting mosques.
4. How to Dress at the Beach?
Men are allowed to wear swimming shorts at the beach or swimming pool. In some places, however, they may be asked to cover their upper body and wear a t-shirt.
For women, the swimming attire may vary from place to place. In some beaches or pools, they can wear regular bathing suits. However, some places may require them to wear t-shirts and knee-length shorts. In any case, be sure to inquire with the place before you go there!
5. How to Dress at the Mall?
When going to the mall, the above guidelines (e.g. long pants, knee-length skirts, etc.) also apply. It must also be emphasized that people should avoid wearing shorts, sleeveless shirts, and other revealing clothing. This is because there is a new rule with regard to dressing modestly in public.
Based on Article 294 of the Omani Penal Code, anyone who violates "public decency" (e.g. by dressing immodestly) may face a fine ranging between OMR 100 and OMR 300. Moreover, he/she could also face a jail term consisting of one to three months.
As people living and working in a foreign land, we should always be responsible for our actions, including the way we dress. By keeping the above rules in mind, we can look forward to having a trouble-free stay in Oman, while learning about the local culture.
READ NEXT: 6 Tips for Finding a Job in Oman