Traveling from the United Arab Emirates (UAE) to Oman (and vice versa) is a must-try for citizens, residents, and tourists in these two neighbouring countries. Both countries have plenty of sights and attractions, and you can easily travel between them, either by road (bus or private car) or by air.
Notably, the Sultanate of Oman features many beautiful landscapes and cultural destinations. If you have ever dreamed about visiting this country, or taking a road trip from Dubai to Muscat and other nearby cities, keep on reading for some great travel tips and ideas!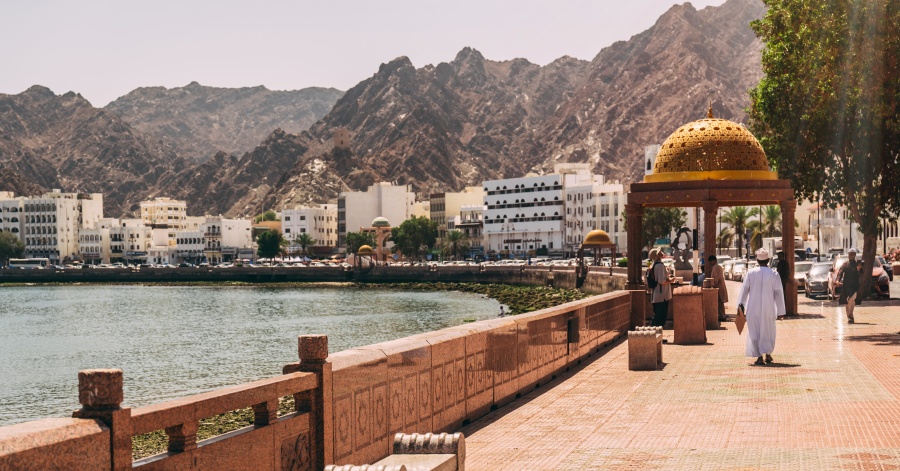 Dubai to Muscat Distance
The distance between Dubai and Oman via road travel is around 423 kilometres. Of course, the distance may vary depending on your exact location, specific destination, and the route you are planning to take. For instance, if you are traveling from Dubai to Muscat (the capital of Oman) via the Sharjah-Kalba Road (E102), the distance is around 450 kilometres. On the other hand, if you are going to take the Al Ain-Dubai Road (E66), the distance would be around 472 kilometres.
Flights from Dubai to Oman
Nowadays, there are several airlines flying between the UAE and Muscat, including: Oman Air, Emirates (from Dubai), Etihad (from Abu Dhabi), flydubai, and Air Arabia (from Sharjah). Oman Air happens to be the national carrier of Oman, with regular flights from Muscat to Dubai. Meanwhile, Emirates has bi-weekly flights from Dubai to Muscat, every Friday and Sunday.
Travel from Dubai to Oman by Bus
Although traveling by plane is definitely quick and convenient, you may want to consider traveling by bus as another option. There's a bus route operating from Dubai to Oman, which means you can take a longer and more "scenic" route!
Since January 2019, Bus Route 201 has been transporting passengers from Dubai to Oman. The cost is AED 55 per person for a one-way ticket, and AED 90 for a round-trip ticket. As for the travel time, commuting from Dubai to Oman takes around six hours, depending on traffic and bus stops.
Below are the departure times for Bus 201 from Dubai to Muscat, for your reference:
Abu Hail Bus Station – 7:30 am, 3:30 pm, and 11:00 pm
Airport Terminal 2 – 7:45 am, 3:45 pm, and 11:15 pm
Rashidiya Bus Station – 8:00 am, 4:00 pm, and 11:30 pm
As you can see, the route runs three times daily, starting from Abu Hail Bus Station, which is right next to Abu Hail MRT Station in Dubai. It stops at Airport Terminal 2 and Rashidiya Bus Station for about 15 minutes, thus making it convenient for travelers coming from these places.
Dubai to Oman by Road
If you prefer to drive, you can certainly take your car (or rent a car) and head to Oman by going on a road trip. Don't forget to bring your passport, visa, and other requirements — as you will be crossing the UAE-Oman border, of course! The great thing about taking a road trip is that you can drive at your own pace, and take lots of pictures at interesting sights along the way.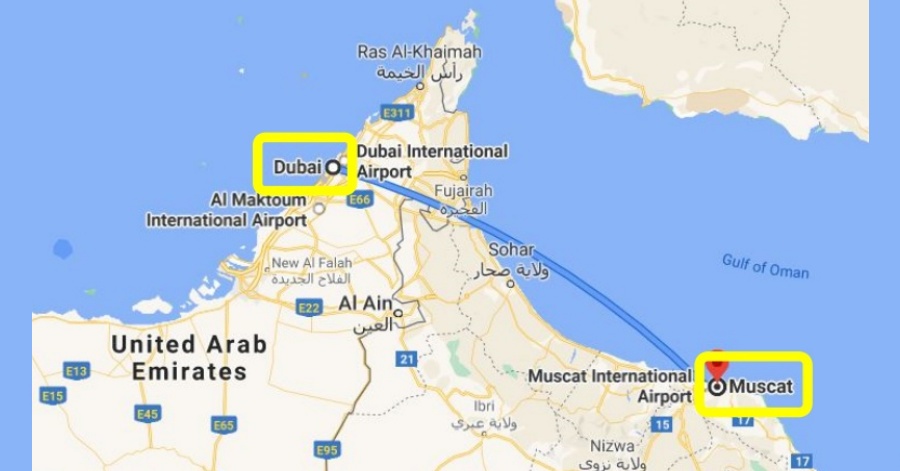 Dubai to Oman Border
If you are traveling by bus from the Dubai bus station, it should take you around three hours to reach the UAE-Oman border. This period is slightly shorter — around two and a half hours — if you are driving your own car. In any case, you need to be prepared with your documents before undergoing the security checkpoints at the border. After finishing there, it will take you about four to five more hours until you reach Muscat, the capital city of Oman.
UAE-Oman Border Checkpoints
When traveling from Dubai to Muscat, there are three different checkpoints that you need to pass through, whether you're traveling by bus or by car. You will also be passing the same checkpoints on your way back (from Muscat to Dubai), though the process differs slightly.
From the Dubai bus station, you will reach the first checkpoint at the Hatta border. Here, you will need to present your passport and pay AED 35 as the UAE exit fee. Don't forget to keep the receipt after making your payment!
After driving (or riding the bus) a little further, you will reach another checkpoint. Once again, you will need to present your passport, as well as the receipt for paying the exit fee that you made earlier. At this point, your passport will be stamped.
The third checkpoint is when you finally cross the UAE-Oman border. Security officials will check your luggage, and you need to present your passport and visa requirements. That's it! You have just entered the Sultanate of Oman!
Dubai-Oman Travel Tips
Before making the trip from Dubai to Oman, keep the following tips in mind:
Be punctual. If you are traveling by bus, be sure to arrive at the bus station at least half an hour before departure time. After all, it's better to be early than to risk missing your bus! Besides, there are restaurants at the station where you can eat and relax while waiting to board the bus.
Reminder for female travelers. If you are traveling solo, try to get seated next to another female passenger. And take note… women are usually seated at the front of the bus.
Prepare your documents in advance. Depending on your passport, you might need to apply for a visa before going to Oman, although some passports may qualify for a "visa on arrival." Check with the immigration authorities beforehand to avoid any problems during travel.
Traveling with medication. If you need to take any medicines during the trip, don't forget to bring your doctor's prescription as well. Moreover, check with the health authorities in Oman for their list of banned and restricted medicines. The last thing you want to happen upon reaching the border is to get detained because of bringing prohibited medication!
Traveling from Dubai to Oman (and vice versa) is pretty much easy and straightforward, as long as you have all the necessary documents. If you are a resident of either the UAE or Oman, consider traveling between the two countries so that you can enjoy many amazing sights and experiences!
READ NEXT: What is the Postal Code Number in Oman?