The Bank Muscat is Oman's leading financial institution. They offer many financial products and services like corporate banking, personal banking, investment banking, treasury, Islamic banking and asset management.
Also Read: List of Ahli Bank Branches and ATMs in Oman
This bank has the largest network of branches and electronic channels in Oman. There are also branches in Kuwait, Saudi Arabia, and representative offices in Dubai. It is also a member of the (BDIS) or Bank Deposits Insurance Scheme.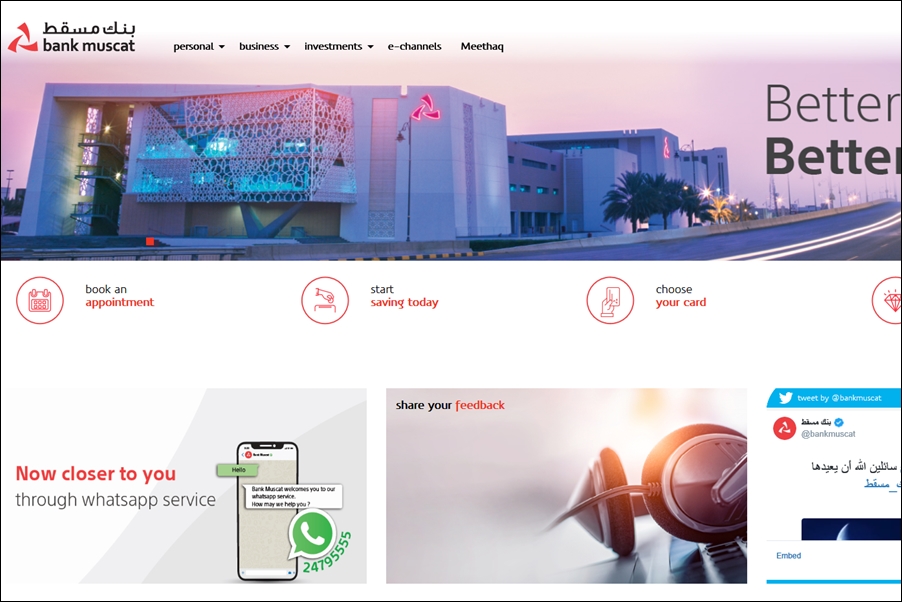 Bank Muscat Branches And ATM Machines In Oman
Below is the list of Bank Muscat found in Oman, including their address location. So it will be easier for you to check if the branch is in your area, please do a "CTRL+F" search on your keyboard and type the bank name or location.
A Seeb
Location: A Souq st.,Al Kamelia Shopping Center, Muscat
Adam
Location: Souq Rood,Adam, Dhakiliya
Al Amerat
Location: AL Amerat Street,Al Amerat, Muscat
Al Ashkara
Location: Ashkara, Sharqiya
Al Awabi
Location: Al Awabi,Al Awabi, South Batinah
Al Buraimi
Location: Hamaasah street,Buraimi, Dhahirah
Al Ghashab
Location: Ghshab,Al Ghashab, South Batinah
Al Ghubrah Islamic Branch
Location: 3812 Way 713,Al Ghubrah, Muscat
Al Ghubrah Branch
Location: 3812 Way 713,Al Ghubrah, Muscat
Al Hamra
Location: Tawi Saleem Road,Al Hamra, Dhakiliya
Al Hayal
Location: Al Hayal street,Al Hayal, Dhahirah
Al Hejari
Location: Al Qasabiyah,Khaboura, North Batinah
Al Kamil
Location: AL Kamil Street,Al Kamil, Sharqiya
Al Khadra
Location: Al Ghalil,Al Khadra, North Batinah
Al Khoudh
Location: Al Barakat street, Muscat
Al Khuwair (Ministry)
Location: Al Khuwayr Street,Al Khuwair, Muscat
Al Khuwair 33 Branch
Location: Al Khuwair,Al Khuwair, Muscat
Al Khuwair Branch
Location: Al Khuwayr Street,Al Khuwair, Muscat
Al Mahaj Al Amerat
Location: AL Amerat Street,Al Amerat, Muscat
AL MAZYOUNA
Location: AL MAZYOUNA, Dhofar
Al Mudhaibi
Location: Al Mudaybi,Al Mudhaibi, Sharqiya
Al Mudhairib
Location: Main road of Al Mudhairib – Sur,Al Mudhairib, Sharqiya
Al Nahdha Tower
Location: Al Nahdha Tower Azaiba, Muscat
Al Qurum Branch
Location: 651 Way 5366,Al Qurum, Muscat
Al Rumais
Location: Baraka (Al Rumais), South Batinah
Al Rustaq
Location: Rustaq,Rustaq, South Batinah
Al Saada
Location: An Nasr Street,Al Saada, Dhofar
Al Sarooj Commercial Complex
Location: Al Kharijiyah St,Al Sarooj Commercial Complex, Muscat
Al Tareef
Location: Al Tarif,Al Tareef, North Batinah
Al Washil
Location: Rustaq, Wushail,Rushtaq, South Batinah
AL-Ansab
Location: Way 286 Al-Ansab, Muscat
Awqadain
Location: A sultan Saeed Bin Sultan St,Awqadain, Dhofar
Azaiba Branch
Location: 46 Street,Aziaba, Muscat
Azaiba R-A Branch
Location: 44 Street, 4269 way,Aziaba, Muscat
Bahla, Main Road Bahla
Location: Street No. 21,Bahla, Dhakiliya
Bait Al Reem Branch
Location: Al Khuwair,Al Khuwair, Muscat
Bani Bu Hassan
Location: Bani Bu Hassan,Bani Bu Hassan, Sharqiya
Barka
Location: Wushail,Barka, South Batinah
Barka Souq
Location: Souq Barka road,Barka, South Batinah
Bataha Hilal Suwaiq
Location: As Suwaiq,Suwaiq, South Batinah
Bausher Branch
Location: Bausher, Muscat
Bidaya
Location: Al Khaburah,Bidaya, North Batinah
Bidiya
Location: Al Wasil,Bidiya, Sharqiya
Birkat Al Mawz
Location: Main Rood Of Birkat Al Mouz ,Birkat Al Mouz, Dhakiliya
Buraimi
Location: Main Road, Main Road Buraimi,Buraimi, Dhahirah
Burj A Sahwa
Location: Nizwa Road,Rusayl, Muscat
City Centre Branch
Location: Al Seeb St.,Muscat City Center, Al Seeb, Muscat
Corniche
Location: Corniche Road,Muttrah Corniche, Muscat
Corporate Bank
Location: CBD, Markaz Mutrah Al Tijari St, Ruwi, Muscat
Dahariz
Location: Al Ahquaf St,Salalah, Dhofar
Dareez
Location: Dareez Street,Dareez, Dhahirah
Dhank
Location: Dhank Street,Dhank, Dhahirah
Dibba Al Biya (Musandam Region)
Location: Dibba, Dhahirah
Duqum
Location: Duqum, Sharqiya
Falaj Al Qabail
Location: Sur Al Abri,Falaj Al Qabail, North Batinah
Fanja
Location: Fanja St.,Fanja, Muscat
Firq
Location: Dealers Road,Firq, Dhakiliya
Firq Indl. Area
Location: Firq Industrian Road,Firq, Dhakiliya
Ghala Branch
Location: Al Ghubbrah St.,Ghala, Muscat
Ghala Industrial Area Branch
Location: 6420 Way,Ghala, Muscat
H.O. Branch
Location: Al Matar St.,Seeb Air Port Bridge, Muscat
Haffa
Location: As Sultan Qaboos Street,Haffa, Dhofar
Haima
Location: Al Wusta Region, Dhakiliya
Hattat House
Location: Hattat R -A,Wadi Adai, Muscat
Ibra
Location: Main road of Ibra,Ibra, Sharqiya
Ibri Al Iraqi
Location: Iraqi Street,Ibri, Dhahirah
Ibri Jubail
Location: Jubail Street,Ibri, Dhahirah
Ibri Souq
Location: Souq Ibri Street,Ibri, Dhahirah
Izki
Location: AL Madfaiia,Izki, Dhakiliya
Jaalan Bani Bu Ali
Location: Jaalan Bani Bu Ali street ,Jaalan Bani Bu Ali, Sharqiya
Jaalan Bani Bu Ali
Location: New, Jaalan Bani Bu Ali, Sharqiya
Jibroo
Location: Al Meena a Street,Jibroo, Muscat
Khaboura
Location: Al Khaburah,Khaboura, North Batinah
Khasab (Musandam Region)
Location: Bukha – Khasab, Dhahirah
KOM
Location: Al Jameah St.,Knowledge Oasis Muscat, Near to Medil East college, Muscat
Liwa
Location: Sur Al Abri,Near to Sama Liwa, North Batinah
Lizough
Location: Bid Bid – SUR Rood,Lizough, Dhakiliya
Maabela
Location: As Seeb St.01, way no. 7032,Maabela, Muscat
Maabela Industrial Branch
Location: Way no 7749,Maabela Industrial Area, Muscat
Maabela South
Location: Al Khayr St.,Maabela South, Muscat
Madina Qaboos Branch
Location: Al Bashair St.,Madina Qaboos, Muscat
Mahda
Location: Mahda, Dhahirah
Mahoot
Location: MAHOOT, Muscat
Manah
Location: Manah Street,Manah, Dhakiliya
Marfa Daris
Location: Marfa Daris Road,Dareez, Dhakiliya
Markaz
Location: Al Bahja
Al Mouj St
Location: Al Hail, Muscat
Marmul
Location: Marmul, Dhofar
Masirah
Location: Hilf, Sharqiya
Mawaleh
Location: Mazon St.,Mawaleh, Muscat
MBD
Location: Markaz Murrah Al Tijari Street,MBD- Ruwi, Muscat
MBD South
Location: Way 3508,Behind Khimji Bait al ahlam, Muscat
Mina Al Fahal Branch
Location: Fouhood Street,Mina Al Fahal, Muscat
Mirbat
Location: Robat Road 49,Mirbat, Dhofar
Murtafat Ibri
Location: Murtafaa Street,Ibri, Dhahirah
Musanna
Location: Al tarif, South Batinah
Muscat
Location: Muscat Block 180-184,Muscat, Muscat
Nakhal
Location: Nakhal,Nakhal, South Batinah
New Salalah
Location: A nahdah St,Salalah, Dhofar
Nizwa
Location: Suqh Road, Near Nizwa Fort, Dhakiliya
Qalat Al Awamir
Location: AL Qala street,Izki, Dhakiliya
Qarn Alam
Location: Qarn Alam, Muscat
Quriyat
Location: Souq Street,Quriyat, Muscat
RGO
Location: Way no 2463,RGO, Muscat
Royal Hospital
Location: 3783 Way,Al Ghubrah Street, Muscat
Royal Operah
Location: AL Qurum – Operah Gallery, Muscat
Rusayl
Location: Way no 4914,Administration Complex, Rusayl Industrial estate, Muscat
Ruwi
Location: MBD Street, MBD- Ruwi, Muscat
Ruwi High Street
Location: Souq ruwi,Ruwi, Muscat
Sadah
Location: Sadah St,Sadha, Dhofar
Safalat Ibra
Location: Safalah Souq street ,Ibra, Sharqiya
Saham
Location: Saham,Saham, North Batinah
Saham Corniche
Location: Majz Al Kubra,Saham, North Batinah
Salalah Industrial
Location: Al Ahquaf St,Salalah, Dhofar
Salalah Port Branch
Location: As Sultan Qaboos St 47,Salalah, Dhofar
Salalah
Location: 23rd July Street, 23 Rd July Street,Salalah, Dhofar
Samad A Shaan
Location: Samad A shaan Street,Samad A Shaan, Sharqiya
Samail
Location: Al Madrah ,Samail, Dhakiliya
Shaafa
Location: Izki, Shafaa Camp,Dareez, Dhakiliya
Shaati
Location: Al Qurum Branch, Grand Hyyat Road,Shaati Al Qurum, Muscat
Shinas
Location: Sur Al Abri,Shinas, North Batinah
Sinaw
Location: Souq street,Sinaw, Sharqiya
Sohar
Location: A Seeb Street 01,Sohar, North Batinah
Sohar Souk
Location: Ghayl Ash Shabul,Sohar, North Batinah
SQU
Location: l Jameah St.,Central Area, Near to SQU Mosque, Muscat
Sur
Location: Souq street,Sur, Sharqiya
Sur
Location: Al Afiah, Snaislah Street,Sur, Sharqiya
Sur
Location: Al Sharia, AL Shariah Street,Sur, Sharqiya
Suwaiq
Location: Suwaiq Souq,Suwaiq, South Batinah
Taqa
Location: Robat Road 49,Taqa, Dhofar
Tharmad
Location: AS Suwayq,Tharmad, South Batinah
The Wave
Location: The Wave, Muscat
Thumrait
Location: Thumrait, Dhofar
Wadi Al Kabir
Location: Al Ghadeer Street,Wadi Kabir, Muscat
Wadi Tayeen
Location: Hai AL Salam street,Ibra, Sharqiya
Wattaya
Location: Wattaya dealer street,Wattayah, Muscat
Yanqul
Location: Yanqul Street,Yanqul, Dhahirah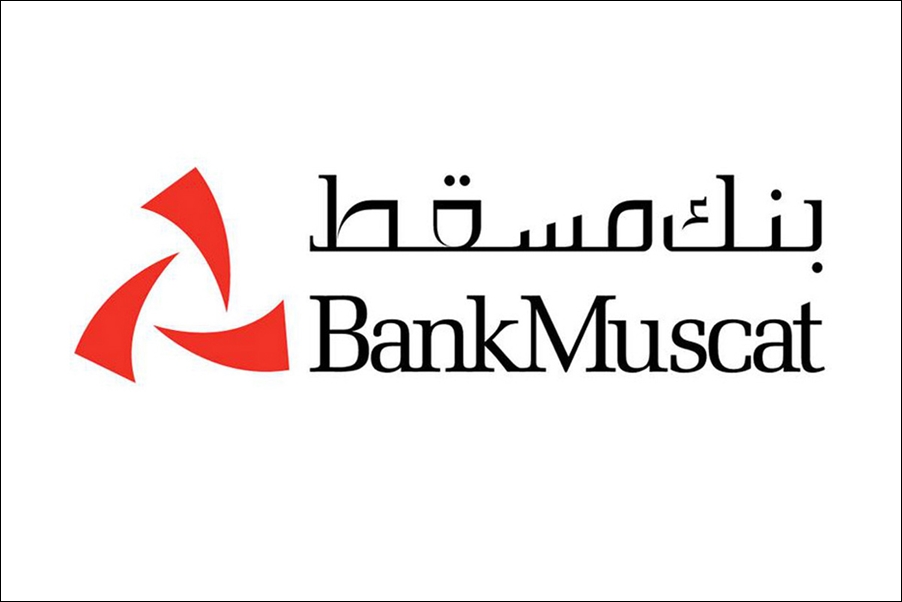 List of Bank Muscat ATMs Locations in Oman
23rd July Street Branch
Muscat House, Main Branch, 23rd July St, Dhofar
Adam Branch
Oppsaite of Majles A lAin, Souq Road, Dhakiliya
Al Afiya Branch
Opposite of shell filling station, Snaislah Street, Sharqiya
Al Amerat – Mahaj
Near OIFC, Bldg # 942, Al Amerat Street17, Muscat
Al Amerat Branch
Near Jotun paint Building #94, Al Amerat Street, Muscat
Al Amri Centre
Between Al Amri center and Oman Oil F-S, Al Binod St. 4827, Muscat
Al Aqar
Shinas, Near Shinas R-A, Al-Agar, North Batinah
Al Awabi Branch
Near Oman Oil F-station, Al Awabi, South Batinah
Al Buraimi
Near to Toyota dealer, Hamaasah street, Dhahirah
Al Farsi Center
Below Hammer Gym, Near Muttrah Health Center, Muttrah street Road, Muscat
Al Ghashab
Near Shell select F-station, Ghshab, South Batinah
Al Ghashab Branch
Near Shell select F-station, Ghshab, South Batinah
Al Ghubrah Branch
Opp. Bushra Al Khair, Bild No 55,56, Way #3812, Muscat
Al Hail Offsite
Next to Shell F-S, Pedestrial Over bridge, Shimaliya St, Muscat
Al Hail South – Rawas House – Seeb
Rawas House near by Al Hameed Mosque, Next to Al Faisal Building, Al Huda St – 25, Muscat
Al Hamra Branch
Near to Jotun Multicolor Center, Tawi Saleem Road, Dhakiliya
Al Harthy Complex
Al Harthy Parking Lot, Way 515, Muscat
Al Hayal Branch
opposite of Nooh Book Shop, Al Hayal street, Dhahirah
Al Hejari Branch
Near to Main Road , Hejari, North Batinah
Al Kahdra Suwaiq
Near al maha station , Al Khabourah, South Batinah
Al Kamil Branch
Souq AL Kamil and AL Wafi, AL Kamil Street, Sharqiya
Al Khadouri Building
Khuwair, Behind Rawasco, Way 4305- 4303, Muscat
Al Khadra Branch
Al Khoud Branch
Opp. Babil Hyper Market, Way # 3343, Muscat
Al Khoud Main Street 1
Sham optix, Sena optix, Building #273, Way # 3343, Muscat
Al Khuwair 33 Branch
Rawasco Al Khuwair, Souq Al Khuwair St., Muscat
Al Khuwair 37 Branch
Next to City Season Hotel, Way 3503, Muscat
Al Khuwair Court
Opp. Oman Oil, Near Rawasco, way 4337, Muscat
Al Maha
Alrghna Building, Near saud Bhavan Auto Care, Al Amerat Street, Muscat
Al Maha Al Tareef
near golden galf united, Qara, South Batinah
Al Maha Filling Station – Ghala
Al Maha filling station, Ghala Industrial Road, opp. Oman oil Petrol Pump, 99 Street, Muscat
Al Maha Filling Station – North Batinah
On Al-Maha station, Al-Waqibah, North Batinah
Al Maha Filling Station – Salalah
From Lulu Hypermarket towards Airport Rd, Al Najah St., Dhofar
Al Maha Filling Station Al Aqeer
Near almaha station, As Seeb street, South Batinah
Al Maha Filling Station Al Kamil
Al Maha Filling station, Main Road of AL kamil and al wafi, Sharqiya
Al Maha Filling Station Al Qarah
Near al maha station , Al Khabourah, South Batinah
Al Maha Filling Station Al Waqaiba
On Al-Maha Station, Al-Shargah, North Batinah
Al Maha Filling Station
Sallaha
Al Maha F-S Hafeet
on Al-Maha, Hafeet, North Batinah
Al Maha F-S Wajajah
Near Al-Maha, Wajaj, North Batinah
Al Maha F-S
Suwaiq, Near al maha station , AS Suwayq, South Batinah
Al Maha Petrol Sation – Muscat
Al Maha Petrol station MQ, Way 2333, Muscat
Al Maha Petrol Station – Al Hail
Al Maha F-s, near by Sultan Shopping Center, Al Seeb St., Way # 7032, Muscat
Al Maha Petrol Station – Al Hail South
Al Maha Petrol station, Near Muscat Pharmacy, Mazon St., Muscat
Al Maha Petrol Station – Al Hail South Seeb
Al Maha F-s Opp. Zum Zum Hyper Market, Soroor St. way# 2519, Muscat
Al Maha Petrol Station – Al Khuwair
Al maha petrol Station, Near Safeer Intl Hotel, way 4109, Muscat
Al Maha Petrol Station – Azaiba
Al Maha Petrol station, Opp. BEC, Way #1207, Muscat
Al Maha Petrol Station – Ghala
Near to Qlhat LNG, 99 Street, Muscat
Al Maha Petrol Station – Hibbi
Al Maha Filling Station – Near to Barber Shop, AL Hibbi – Al Mamoor Strate, Dhakiliya
Al Maha Petrol Station – Mabela
Al maha F-s, Opp. Shell F-s, Al Khayr St., Muscat
Al Maha Petrol Station – Mawaleh
before OmanTel building, Al maha F-s, Nizwa Road, Muscat
Al Maha Petrol Station – Quriyat
Shell Petrol station, Near El Ekha Restaurant and Coffee, Quriyat Street, Muscat
Al Maha Petrol Station – Rusayl
Al maha F-s, building # 3120, Al Jameah St., Muscat
AL Maha Petrol Station – Sohar Souk
On Al-Maha Station, Sohar Souk, North Batinah
Al Maha Petrol Station near Bahja
Al Maha F-s, Near Bahja, at Al Jabri Center, Al Mouj St, Muscat
Al Maha Petrol Stn – Shuayabah
near al maha station , Masnaah, South Batinah
Al Maha Filling Station
Maabelah Industrial
Al Majal Travel Building
Near Layali Rent Apartments, 23rd July St, Dhofar
Al Manzaleah Branch
next to oman Investment and Finance , Main Road Of Izki, Dhakiliya
Al Mudhaibi Branch
Oppsite of ROP Station, Mudhaibi St., Sharqiya
Al Mudhairib Branch
Oppsite of ROP Station, Mudhaibi St., Sharqiya
Al Mugsser
Near sacrat clinic, Al Mughaar Street, South Batinah
Al Muladdah
Al Maladdah, Maladdah, South Batinah
Al Muladdah Branch
Al Maladdah, Maladdah, South Batinah
Al Nasr Club
Opp. Al Isteqrar Shopping Center, 23rd July St, Dhofar
Al noor Hall
Al noor plaza, Al noor hall, Way 2141, Muscat
Al Qurum Branch
Opp. Al Araimi Complex, Way 656, Muscat
Al Qurum Complex
Al qurm Complex, Way #667, Muscat
Al Rustaq Branch
Beside of OIFC, Rustaq, South Batinah
Al Saada Branch
Next to Al Maha Petrol Station, An Nasr Street, Dhofar
Al Salaam Street next to Al Mashhor Supermarket
Main Street, Near Al Mashhor Supermarket, Al Salam St., Dhofar
Al Salam Street
Al Gharbiya Area., Near Bridge, Al Salam St., Dhofar
Al Sharia Branch
Near to Nawras, next to AL Thaabit, AL Shariah Street, Sharqiya
Al Tareef Branch
Al Tareef branch, Tareef, North Batinah
Al Wafi Shops
Office of Educational Supervision Jalaan, AL Wafi Street, Sharqiya
Al Waqbah Offsite
Near by Janain Al Waqbah Restorant , Al Waqbah 12 street, Dhahirah
Al Wushail Branch
Beside Bank of oman, Wushail, South Batinah
Al Mudhaibi Branch
Oppsite of ROP Station, Mudhaibi St., Sharqiya
Al Mugsser
Near sacrat clinic, Al Mughaar Street, South Batinah
Al Muladdah
Al Maladdah, Maladdah, South Batinah
Al Muladdah Branch
Al Maladdah, Maladdah, South Batinah
Al Nasr Club
Opp. Al Isteqrar Shopping Center, 23rd July St, Dhofar
Al noor Hall
Al noor plaza, Al noor hall, Way 2141, Muscat
Al Qurum Branch
Opp. Al Araimi Complex, Way 656, Muscat
Al Qurum Complex
Al qurm Complex, Way #667, Muscat
Al Rustaq Branch
Beside of OIFC, Rustaq, South Batinah
Al Saada Branch
Next to Al Maha Petrol Station, An Nasr Street, Dhofar
Al Salaam Street next to Al Mashhor Supermarket
Main Street, Near Al Mashhor Supermarket, Al Salam St., Dhofar
Al Salam Street
Al Gharbiya Area., Near Bridge, Al Salam St., Dhofar
Al Sharia Branch
Near to Nawras, next to AL Thaabit, AL Shariah Street, Sharqiya
Al Tareef Branch
Al Tareef branch, Tareef, North Batinah
Al Wafi Shops
Office of Educational Supervision Jalaan, AL Wafi Street, Sharqiya
Al Waqbah Offsite
Near by Janain Al Waqbah Restorant , Al Waqbah 12 street, Dhahirah
Al Wushail Branch
Beside Bank of oman, Wushail, South Batinah
Al-Khoud Maamoura Building
Maamoula building, As Sad St., Muscat
Athaiba Roundabout Branch
Asahwa Tower, Azaiba, 44 Street, Muscat
Awqadain
Opp. Raysut R-A, Auqad St., Dhofar
Awqadain Branch
Opp. Raysut R-A, Auqad St., Dhofar
Azaiba
Near Safeer Shopping mall, Way # 4451, Muscat
Azaiba Branch
Near Sultan Center, 46 Street, Muscat
Bahla Branch
Main Road Bahla, Street No. 21, Bahla Branch, Near to Switz, Dhakiliya
Bahla Souk Branch
Next to Jotun Abraj Bahla Trad and ASS, Bahla – Jebreen strate, Dhakiliya
Bahla Souq
Next to Bahla Fort , Bahla Souq, Dhakiliya
Bait Al Reem Branch
Bait Al Reem, Opp. Mini. Of Housing, Al Wazarat St, Muscat
Baituna Office – Qurum
Opp. Slaman Store, CCC, Al Waillaj St., Muscat
Bani Bu Hassan Branch
Near to Bani Bu Hassan Hospital, Bani Bu Hassan St., Sharqiya
Barka Souq Branch
Beside of safeer center, Barka road, South Batinah
Barka Souq branch 2nd ATM
Beside of safeer center, Barka road, South Batinah
Barka Souq- Offite
on barka souq , Barka Road, South Batinah
Bataha Hilal Branch
Near shell station, AS Suwayq, South Batinah
Bausher Branch
Sama house, Opp. Alema Mohan Bin sultan school, Way 270, Muscat
Bidaya Branch
Near Ghader shoping , Bidaya, North Batinah
Bidbid next to Shell Filling Station
next to Shall Filling Station- Near to Almaha Bus Station, Nizwa Road15, Dhakiliya
Bidiya Branch
Near to shell filling station, Bidiya St., Sharqiya
Bidiya Sports Club
Bidiya Sports Club, Bidiya St., Sharqiya
Birkat Al Mouz Branch, Oppsite of Birkat Al Mouz R-A, Main Road Of Birkat Al Mouz, Dhakiliya
BM New Head Office
Near Air Port Bridge, Al Matar St., Muscat
Buraimi Branch
Near to Toyota dealer, Hamaasah street, Dhahirah
Buraimi College
Buraimi College, Next to Tawam International school Cambridge Curriculum, Al Khazra Street, Dhahirah
Buraimi
Main Road Branch, Near to R-A of Sultan Qaboos Mousq, Main Road Buraimi, Dhahirah
Burj Al Sahwa Branch
Oman oil F-s, Nizwa Road, Muscat
Bushra Al Khair
Bushra Al Khair Market, Al Rushtaq, South Batinah
Carillin Alawi
Carilin alawin LLC, Hostel, 6621 Way, Muscat
CBO
Opp. BM Corp office, Bank Al Markazi street, Muscat
City Center – Al Qurum
City Center Qurm, Madinat Al Sultan Qaboos St, Muscat
City Centre
Muscat City Center, Al Seeb St., Muscat
City Centre Branch
Muscat City Center, Al Seeb St., Muscat
Civil Aviation club
Civil aviation club, behind Airport, Way #1207, Muscat
College of Applied Sciences
Salalah, Nr. Min of Defence EngiNearing Div. and Besides Salalah College of Tech. Al Saada, Thumret St, Dhofar
College of Banking and Financial Studies
College of banking Financila Studies, Bawshar St., Muscat
Corniche Branch
Muttrah Corniche, Corniche Road, Muscat
Corporate Branch
Next to HSBC, Opp. Dhofar Insurance Company, MBD Street, Muscat
Dahreez Branch
Dhareez Branch, Umm Al Ghawarif St, Dhofar
Dareez Branch
Near to Al Sheraah Mosque, Dareez St., Dhahirah
Dhank Branch
Near to Majan Electrecity , Dhank Street, Dhahirah
Dhareez Branch
Dhareez Branch, Umm Al Ghawarif St, Dhofar
Dhofar University
Next to Old Dhofar University Bldg, Al Saada, Abu Firas st., Dhofar
Directorate General Of Civil Status
Seeb, Directorate General Of Civil Status,Seeb, Way # 1147, Muscat
Falaj Al Qabail
Near port R-A, Oppo. Sohar Industrial zone, Magess, North Batinah
Falaj Al Qabail Offsite
Near port R-A, Magess, North Batinah
Fanja Branch
Opp. Shell F-S, Fanja St., Muscat
firq Branch
Next Pizza Hut, Dealers Road, Dhakiliya
Firq Indl. Area Branch
next to Muscat Bakery Market , Firq Industrian Road, Dhakiliya
F-S Main Road
Khabourah, Near to Shell Petrol, Souq Al Khaboura, North Batinah
Ghala Branch
Bul No 206, Al rawawi house, Near Pizza Hut, Ghala Street, Muscat
Global Money Exchange
Near global mony exchange, Al Falaj, North Batinah
Global Money Exchange
Ruwi, Beside oman international bank, Bldng # 1470, Al Jaame Street, Muscat
Green Line
Salalah, Near Ghawraif R-A, Thumrayt St, Dhofar
Haffa Branch
Next to OIB Branch, Near Al Akhat Cinema, As Sultan quaboos St., Dhofar
Haffa, Shrouq Rd
Next to Diwan Office, Al Shurouq St, Dhofar
Hai Al Rahba
Near to Shell station, Alrahba, North Batinah
Hambar, Oman oil F-S
near KFC, Al Bahja Street 67, North Batinah
Hattat House
Hattat complex, Near shell F-S, Hattat R-A, Muscat
Hia Al Ain Nizwa
next to Hai Alain Coffee Shop, Hia Alain, Dhakiliya
Higher College of Technology
HCT Al Khuwair, 47 Street, Muscat
Hilat Al Burj
Oman Oil Station, Al-Barj, North Batinah
Hilat Al Nasr Maabeela
Hilat Al Nasr, 335A, Near by NBO, As Seeb St.01, Muscat
Honda Road
ROP 2 , Block No163, opp. Hubib Bank, Honda Street, Al Baladiyah St, Muscat
Ibra Branch
Near to Ahli Bank, Main road of Ibra, Sharqiya
Ibra Hospital
Ibra Hospital, Ibra Hospital street, Sharqiya
Ibri Iraqi Branch
Bait Sasaal Buliding, AlDharh Market center, Dharah Iraqi street, Dhahirah
Ibri Jubail
Near to AL Hashar group, Jubail Street, Dhahirah
Ibri Murtafaat
Near to Zahrh Al Muharmi Medical Clinic, Murtafaa Street, Dhahirah
Ibri Souq Al Aradh
Al Maha filling station, AlAradh Street, Dhahirah
Ibri Souq Branch
Indestry Area, Water Station Jubail, Souq Ibri Street, Dhahirah
Industrial Area Branch
Opp Road to Gulfar, 6420 way, Muscat
Intercontinental Hotel Branch
InterContinental Hotel, Way 2817, Muscat
Izki Branch
Next to Al Madfaiia, AL Madfaiia, Dhakiliya
Jaalan Bani Bu Ali Branch
Near to shell filling station, Jaalan Bani Bu Ali street, Sharqiya
Jaalan Bani Bu Ali- Shop
Near to Babul Khair, Jaalan Bani Bu Ali Street, Sharqiya
Jawahar Hypermarket
Mulladah, Beside Fthimah Shopping, Maladdah, South Batinah
Jawharat Al Shati
Jawharat Al Shati Complex, Near Intercon Hotel, Way 2817, Muscat
Jifneen Shell Petrol Station
Shell F-s Jifneen, Nizwa Road, Muscat
Jubail Branch
Near to AL Hashar group, Jubail Street, Dhahirah
Khaboura Branch
Near to Jahara Hyper Market, Souq Al Khaboura, North Batinah
Khimji Mart
At kimjies , Thurmiyat St., Dhakiliya
KOM e-Branch
Knowledge Oasis Muscat, Near to Medil east college, Al Jameah St., Muscat
Liwa Branch
Near to Sama Liwa , Al Liwa, North Batinah
Lizough Branch
Near by Shell Filling Station, Bid Bid – SUR Road, Dhakiliya
Lulu HM – Wadi Al Kabir
Inside Lulu Hyper Market, Souq Al jumah Street, Muscat
Lulu Hypermarket – Al Ghubrah
Lulu Goubrah, Sultan qaboos Street, Muscat
Lulu Hypermarket – Al Khaboura
Inside Lulu Hyper Market, Al-Khaboura, North Batinah
Lulu HyperMarket
Barka, in side lulu market, Barka R-A, South Batinah
Maabela Branch, Near by Oman oil F-s, Building #892, As Seeb St.01, way # 7032, Muscat
Maabela Industrial Branch
Building # 9892, Block #377, near by Abozoki Shop, Way # 7749, Muscat
Maabela South
Oman oil F-s, Al Khayr St., Muscat
Maabela South Branch
Near by Al Maha F-s, KFC, Al Khayr St., Muscat
Maabelah Branch
Near by Oman oil F-s, Building #892, As Seeb St.01, way # 7032, Muscat
Main Road Branch – Buraimi
Near to R-A of Sultan Qaboos Mousq, Main Road Buraimi, Dhahirah
Makka Hypermarket – Ibri
Near to Oman Medical Center, Al Masarat shopping center, Ibri, Dhahirah
Makka Hypermarket – Tharmad
Inside makah h.m, Ghorfat Al Hamad, South Batinah
Manah AL Bayad
Next To Sohar Beach Bakery Stors, Manah – Izz Street, Dhakiliya
Manah Branch
Near to Sultan Qaboos Mosqe , Manah Street, Dhakiliya
Marfa Daris
next to Zahrat AL Banfsage , Marfa Daris St., Dhakiliya
Marfa Daris Branch
After Almaha Filling station By 200meter- Next to abdullah Bin Ebaz Mosq , Marfa Daris Road, Dhakiliya
Markaz Al Bahja Branch
Markaz Al bahja, Al Mouj St, Muscat
Mawaleh Branch
Near Shell F-s, Mazon R-A, Mazon St., Muscat
MBD Branch
Next to NBO, Near to Oman central Bank, Markaz Murrah Al Tijari Street, Muscat
MBD South Branch
Behind Khimji Bait Al ahlam, Way 3508, Muscat
Mina Al Fahal
Next to NBO, Way 1033, Muscat
Mina Al Fahal Shell Select
Shell Petrol Station, Mina Al fahal, Way 1033, Muscat
Mirbat Branch
Nr. Main Mousque, Mirbat St., Dhofar
MOD Ibra
Camp Ahmed bin Saeed of the Armed Forces, Main Entrance of Camp Ahmed bin Saeed of the Armed Forces, Sharqiya
Mukanyat
Near to Lundry, Mukanyat, Mukanyat street, Dhahirah
Murtafat Ibri Branch
opposite o fSultan Qaboos Mousq, Murtafaa Street, Dhahirah
Musanna
Near atayebat h m, altarif, South Batinah
Musanna Branch
Near atayebat h m, altarif, South Batinah
Muscat Branch
Behind Bait Al Zubair Museum, Muscat Block 180-184, Muscat
Muscat Intercon Hotel
Inter Continental Hotel, Way 2817, Muscat
Muscat International Airport Arrival
Airport Arrival, Muscat
Muscat International Airport Duty Free
Muscat, Muscat
Muscat Municipality
Behind Muscat Municipality, Way 1911, Muscat
Mustafa Sultan Exchange
Oppo. Ruwi R-A, Near to Zahrat Al Hina Trade, Ruwi street, 4107, Muscat
Nakhal Branch
Near Al maha F-s, Nakhal, South Batinah
Nizwa Branch
next to Muscat Pharmacy, Souq Road, Dhakiliya
OIFC Muttrah, OIFC Muttrah
After KR Head Office, Muttrah street Road, Muscat
Oman and UAE Exchange OCC
Ruwi, Oman Commercial center, Al Karma Hyper Market, Muscat
Oman and UAE Exchange
Ruwi High Street, Opp. Souq Al Barka, Oman UAE Exchange, Ruwi High Street Road, Muscat
Oman Oil – Saham
Shell petrol Station, Saham, North Batinah
Oman Oil Adam Main Road to Salalah
Oman Oil Filling Station – Ahlain Select, Main Road of Adam to Salalah, Dhakiliya
Oman Oil Al Rusatq – Ibri Road Rustaq Al Iraqi
Oman Oil F-s, Ibri Road Rustaq Al Iraqi, South Batinah
Oman Oil Filling Station- Bidiya
Oman Oil Filling Station, AL Wasal main Road, Sharqiya
Oman Oil Filling Station
Rumais, Oman oil F-s, Al Rustaq, South Batinah
Oman Oil F-S Al Hamra
Next to Oman Oil filling station, Alhamra and Bahla R-A, Dhakiliya
Oman Oil F-S Ghasab, Rushtaq, Oman oil F-s
Al Rustaq, South Batinah
Oman Oil Ghubrah Offsite Near Chadi Hotel
Oman oil petrol station opposite automatic Restaurant, 18 Nov street, Muscat
Oman Oil Nizwa Main Road to Bahla
Oman Oil Filling Station, Oppsaite of National Bank of Oman , Nizwa main road, Dhakiliya
Oman Oil Petrol Station, Next to OmanTel
Oman oil F-S, Al Khoudh St., Muscat
Oman Oil Petrol Station – Al Ghubra
Oman oil petrol station, Sultan qaboos Street, Muscat
Oman Oil Petrol Station – Al Majez
Near Oman Oil , Al-Majez street, North Batinah
Oman Oil Petrol Station – Bahla
Oppsaite of Oman Oil Filling Station, Bahla, Dhakiliya
Oman Oil Petrol Station – Bidaya
Near Oman Oil , Bidaya, North Batinah
Oman Oil Petrol Station – Manal
Oman Oil Filling Station , Nizwa street, Dhakiliya
Oman Oil Petrol Station – Muscat
Al hain shop, Oman Oil filling Station MQ, Al Inshirah St., Muscat
Oman Oil Qalat Al Awamir
next to oman oil- Near to Albasma Pharmacy, AL Qala street, Dhakiliya
Oman Oil Qarat Musanna
near oman oil station, AS Suwayq, South Batinah
OmanOil
Al Khuwair, Near Taimoor Mosque, 49 Street, Muscat
Qalat Al Awamer Branch
next to Hadabat Alneel Unaited Resturant and coffee shop, AL Qala street, Dhakiliya
Quriyat Branch
Near Yokohoma- OIB, Souq street, Muscat
Quriyat shell
Shell Petrol station- Near bank Dofar-OIB, Quriyat Road, Muscat
Qurum Heights
ISS Private ATM, Way # 1701, Muscat
RAFO – Musanah
Al maladdah, Musanah, South Batinah
RGO Shop
Al Burj Complex, Lulu HM, Way # 2463, Muscat
ROP Immigration
ROP Immigration, Way # 1150, Muscat
ROP Nizwa
Near to Social Welfare Markets Academy, Ahmad Bin Said strate, Dhakiliya
Royal Hospital
Royal Hospital, Buld No 8140, Way 3783, Muscat
Royal Navy of Oman
Wudam, Inside Royal Navy of Oman, Wudam, South Batinah
Rusayl Branch
Administration Complex, Rusayl Industrial estate, Way # 4914, Muscat
Ruwi, Near to Lufthansa
Near Al Najah school, 2905 Way, Bait Muscat Building, Muscat
Ruwi High Street Branch
Near to Ruwi commercial center, Souq Ruwi, Muscat
Saadah Branch
Nr. Sadah Police Station, Sadah St, Dhofar
Safalat Ibra Branch
Near to Dubai Fation , Safalah Souq street, Sharqiya
Saham Branch, Saham health complex
Martafaat Saham, North Batinah
Saham Corniche Branch
Near discount center, Saham, North Batinah
Saham Souq Road near Modern Oman Bakery
Near Modern Oman bakery , Saham Souq, North Batinah
Salaam Street next to pizza hut
Near Damas Jewellery, As Salam St., Dhofar
Salalah Ex Br. 55
Nr. Capital and Salman Store, 23 rd July St, Dhofar
Salalah Industrial Branch
Next HYTEC Company, Al Herafeyaan St, Dhofar
Salalah Port Branch, Near Fish R-A
Near Salalah Port, As Sultan quaboos St., Dhofar
Salalah Shell P-S – Al Wadi
Near Center Point, Ar Rubat St., Dhofar
Salalah, 23rd July Street
Muscat House, Main Branch, 23rd July St, Dhofar
Sarooj Drive through
Infront of Al Sarooj Commercial Complex, Al Kharijiya St., Muscat
Seeb Vegetable Market
Near by fish market, Way # 5204, Muscat
Seven Seas, Seven Seas Complex
Al sultan quaboos St., Muscat
Shaati Al Qurum Branch
Coral hotel, Opp. Grand Hyaat, Way 3036, Muscat
Shell F.S Al Hail South
Shell Filling Station- Near Al Ethad Cars showroom, Soroor St., Muscat
Shell filling Station – Bani Bu Hassan
Near to shell filling station, Bani Bu Hassan St., Sharqiya
Shell Filling Station
Al Hassa – Sur, Opposite of AL Baled R-A, At shell F-S, AL Balad Street, Sharqiya
Shell Filling Station
Muladdah, Near shell station, AS Suwayq, South Batinah
Shell F-S – Ibra
Near to shell filling station, Ibra – Sur main Street, Sharqiya
Shell F-S Al Kahddra
Near shell station, Al Khabourah, South Batinah
Shell F-S Mudhaibi
Near to shell filling station, 27 Street, Sharqiya
Shell F-S Sinaw
oppsaite of KIA Motors, Near to Shell Filling Station, Dealer Street, Sharqiya
Shell Maabela Industrial
Shell F-s Industrial area, Al Khayr St., Muscat
Shell Petrol Station – Sur
Opposite of AL Fouz shopping Market, at shell F-S, Sur, Sharqiya
Shell Petrol Station – Wadi Kabir
near shell filling station, Al Wadi Al Kabir Street, Muscat
Shell Select Pertol Station – Aziaba
Near Mc Donalds, azaiba, Al sultan quaboos St., Muscat
Shell Select Petrol Station – Adam
Shell Filling Station- Near to Waite Flower Restorant, Main Road of Adam to Salalah, Dhakiliya
Shell Select Petrol Station – Al Amerat
Shell petrol Station, Near Nissan, The Sultan Center, Al Amerat Street17, Muscat
Shell Select Petrol Station – Al Amerat
Shell petrol Station, Near Nissan, The Sultan Center, Al Amerat Street17, Muscat
Shell Select Petrol Station – Al Ghubra
Shell select petrol station, Near Nawras, Sultan qaboos Street, Muscat
Shell Select Petrol Station – Al Khuwair
Behind Mc Donalds, Sultan qaboos Street, Muscat
Shell Select Petrol Station – Al Meena St.
Near Oman Flour Mill, Shell Petrol station, Al Meena Street, Muscat
Shell Select Petrol Station – Al Sukry
Shell select petrol station, Opp. Gac, Way #5105, Muscat
Shell Select Petrol Station – Darsait
Shell Petrol station, Near KIMS Oman Hospital, Way 2519, Muscat
Shell Select Petrol Station – Ibri
Next to Toyota Dealer, Ibri Street, Dhahirah
Shell Select Petrol Station – Mawaleh
Al Mawaleh Turkish Restaurant, Way 1909, Muscat
Shell Select Petrol Station – Muscat
Al sarooj- Shell Pterol station, Al Kharijiya St., Muscat
Shell Select Petrol Station – Rustaq
Infront of Sultan Quaboos Mosque, Al Rustaq, South Batinah
Shell Select Petrol Station – Ruwi
Shell Select F-s, Near Humriya R-A, Ruwi street,687, Muscat
Shell Select Petrol Station – Salalah
Nr. Raysut R-A. Opp Auwqad Commercial Center, As Sultan quaboos St., Dhofar
Shell Select Petrol Station – Wadi Adai, Shell Filling Station- Near Hattat Complex, Wadi Adai 5135, Muscat
Shell Select Petrol Station – Wadi Lawami, Shell Select F-s, Way # 3015, Muscat
Shinas Branch
Near Shinas R-A, Shinas, North Batinah
Shinas Souq
Fort shinas, Souq Shinas, North Batinah
Shopping And Saving Supermarket
Wadi Al Kabir, Opp. Khimji mart, Souq Al maal street, Muscat
Sinaw Branch
Oppsaite of Bank Dhofar, Souq street, Sharqiya
Sohar Branch
Sohar Souk Near to Souk R-A, Souq, North Batinah
Sohar Ex Branch
Beside Basmat Sohar bakery , Hambar, North Batinah
Sohar Hospital
Sohar Hospital, 08, Al Hayl, North Batinah
Sohar Industrial moweleh
in Oman oil station , Moweleh, North Batinah
Sohar Plaza, Inside Sohar plazza, Al-Waqibah, North Batinah
Sohar Souk Branch
Sohar Souk, Sohar Souk, North Batinah
SQU Hospital
SQU Hospital Reception, Al Jameah St., Muscat
SQU-EngiNearing Building
Student consume est., SQU EngiNearing Building, Al Jameah St., Muscat
SQUstaff club, Near to SQU Staff Club, Al Jameah St., Muscat
Suq Al Hareem
Near to LG shop, Souq AL Hareem, Sharqiya
Sur Branch
Sur Clup, Souq street, Sharqiya
Sur College
Sur College of Appled Science, Sur College street, Sharqiya
Sur Industrial Area
Nimma House, Near to Asail Al khaleej Trading , Sur Industrail Road, Sharqiya
Sur, Al Sharia
Near to Nawras, next to AL Thaabit, AL Shariah Street, Sharqiya
Suwaiq Branch
Near al maha station , suwaiq souq, South Batinah
Talia Sport Club
Near to AL Ayjah Praimary School for Girls 5-12 classes, AL Ayjah Street, Sharqiya
Taqa Branch
Near Al Maha Shopping Center, Robat Road 149, Dhofar
Taqdeer Trading – Mazoon Complex
KM Company – Mazoon Complex, Souq Ruwi Street 3713, Muscat
Tharmad Branch
Near al basmah shoping, AS Suwayq, South Batinah
Thuraya Shopping Centre
Next to ALKARAMA Hybermarket , Al Madrah, Dhakiliya
Training Dept Branch
Near to Lufthansa, Near Al Najah school, 2905 Way, Bait Muscat Building, Muscat
Uqda
Barka, Near to almalki shoping, Muscat Sohar Road, South Batinah
Wadi Adai Petrol Station
between Hattat complex and Shell filling Station, Way 5135, Muscat
Wadi Al Jazi
Wadi AL JAZI Border, Buraime Sohar Main Road, Dhahirah
Wadi Hatat Select
Near NBO- Shell F-s, Al amerat road 17, Muscat
Wajaja Border
Wajaja border , Wajaj, North Batinah
Wattaya Branch
Near to Ford dealer, Wattaya Dealer Street, Muscat
WK Branch
Near IBN Sina Pharmacy- All Maya Super Market, Al Ghadeer Street, Muscat
Yanqul Branch
Next to Dhofar Bank, Yanqul Street, Dhahirah