The National Bank of Oman or NBO was established in the year 1973 as a joint-stock company. This bank provides conventional Islamic banking services. NBO operates in five segments, corporate banking, retail banking, investment banking, treasury, and international banking.
Also Read: List of Aliz Islamic Bank Branches and ATMs in Oman
This bank is very passionate about achieving the customer's goals by providing financial products and services. They value teamwork because they believe that working together can achieve success. And they practice having integrity as the highest standard of ethical behavior.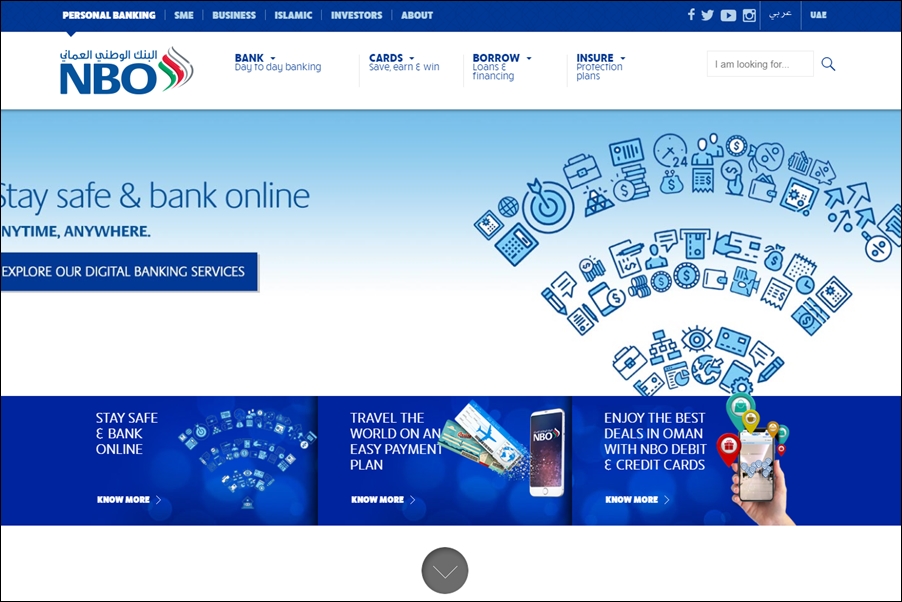 National Bank of Oman Branches And ATM Machines In Oman
Below is the list of NBO found in Oman, including their address location. So it will be easier for you to check if the branch is in your area, please do a "CTRL+F" search on your keyboard and type the bank name or location.
Al Batinah
Location: Afi
Afi
Tel: 800 77077 / +968 24 770000
Muscat
Location: Khoudh Souq
Al Khoudh
Tel: 800 77077 / +968 24 770000
Muscat
Location: Amrat Road 17,behind Sell Filling Station(Wadi Hatat)
Amerat
Tel: 800 77077 / +968 24 770000
Muscat
Location: Near OTE
Ghala
Tel: 800 77077 /
Tel: +968 24 770000
Al Dakhliya
Location: Al Hamra
Al Hamra
Tel: 800 77077 / +968 24 770000
Al Dhahira
Location: Ibri Branch
Ibri
Tel: 800 77077 / +968 24 770000
Al Sharqiya
Location: Al Kamil
Al Kamil
Tel: 800 77077 / +968 24 770000
Al Batinah
Location: Bidaya Souq
Bidaya
Tel: 800 77077 / +968 24 770000
Muscat
Location: Khuwair Souq
Al Khuwair
Tel: 800 77077 / +968 24 770000
Al Sharqiya
Location: Al-Mudhaibi
Al-Mudhaibi
Tel: 800 77077 / +968 24 770000
Muscat
Location: Abraj Al Sahwa building, near Azaiba R/A
Azaiba
Tel: 800 77077 / +968 24 770000
Al Sharqiya
Location: B.B. Ali
B.B. Ali
Tel: 800 77077 / +968 24 770000
Al Dakhliya
Location: Bahla Souq
Bahla
Tel: 800 77077 / +968 24 770000
Al Batinah
Location: Barka Souq
Barka
Tel: 800 77077 / +968 24 770000
Muscat
Location: Near Oman Medical College
Bousher
Tel: 800 77077 / +968 24 770000
Musandam
Location: Bukha branch near Bukha R/A, opposite OIFC company.
Bukha
Tel: 800 77077 / +968 24 770000
Muscat
Location: Corniche Muttrah
Muttrah
Tel: 800 77077 / +968 24 770000
Al Dhahira
Location: Dhank
Dhank
Tel: 800 77077 / +968 24 770000
Al Dakhliya
Location: Nizwa College of Technology
Nizwa
Tel: 800 77077 / +968 24 770000
Al Dakhliya
Location: Fanja Souq – Near Shell
Fanja
Tel: 800 77077 / +968 24 770000
Muscat
Location: near Central Bank of Oman
MBD
Tel: 800 77077 / +968 24 770000
Muscat
Location: Ghoubrah Suq
Ghoubrah
Tel: 800 77077 / +968 24 770000
Dhofar
Location: Salalah
Hafa
Tel: 800 77077 / +968 24 770000
Muscat
Location: Honda Road
Ruwi
Tel: 800 77077 / +968 24 770000
Al Sharqiya
Location: Ibra
Ibra
Tel: 800 77077 / +968 24 770000
Al Dhahira
Location: opposite ziyana pharmacy, Al Iraqi street
Iraqi
Tel: 800 77077 / +968 24 770000
Al Sharqiya
Location: Al Ghanimyia Area, Hospital R/A,near Bani Bu Hassan Hospital
Jalan Bani Bu Hassan
Tel: 800 77077 / +968 24 770000
Al Batinah
Location: Khaboura
Khaboura
Tel: 800 77077 / +968 24 770000
Musandam
Location: Khasab Branch
Khasab
Tel: 800 77077 / +968 24 770000
Al Batinah
Location: Liwa Wincor FFM
Liwa
Tel: 800 77077 / +968 24 770000
Muscat
Location: Helat Al Nasr
Mabellah
Tel: 800 77077 / +968 24 770000
Al Batinah
Location: Musanna Branch
Musanna
Tel: 800 77077 / +968 24 770000
Al Sharqiya
Location: Masirah
Masirah
Tel: 800 77077 / +968 24 770000
Muscat
Location: Near City Center
Mawaleh
Tel: 800 77077 / +968 24 770000
Muscat
Location: Near Shell Filling Station – PDO
Qurum
Tel: 800 77077 / +968 24 770000
Muscat
Location: Near Ministry Of Health
Al Khuwair
Tel: 800 77077 / +968 24 770000
Al Batinah
Location: opposite Oman Oil Filling station, there is (CCDM)
Sohar
Tel: 800 77077 / +968 24 770000
Al Dakhliya
Location: Nizwa Firq souq
Nizwa
Tel: 800 77077 / +968 24 770000
Al Dakhliya
Location: Nizwa Souq
Nizwa
Tel: 800 77077 / +968 24 770000
Al Batinah
Location: Rustaq Branch
Rustaq
Tel: 800 77077 / +968 24 770000
Muscat
Location: Qurriyat
Qurriyat
Tel: 800 77077 / +968 24 770000
Muscat
Location: Al Araimi Complex
Qurum
Tel: 800 77077 / +968 24 770000
Al Batinah
Location: Saham Branch
Saham
Tel: 800 77077 / +968 24 770000
Dhofar
Location: Salalah
Salalah
Tel: 800 77077 / +968 24 770000
Dhofar
Location: in Al Ferdows Street, near Bait Ferdows apartment, there is (CCDM)
Salalah
Tel: 800 77077 / +968 24 770000
Dhofar
Location: An Naser Street, near Saada Suq,opposite Maha Filling Station
Saada
Tel: 800 77077 / +968 24 770000
Muscat
Location: Seeb Souq
Seeb
Tel: 800 77077 / +968 24 770000
Muscat
Location: in Jawharat Al Shatti Area, opposite InterContenintal Muscat Hotel,near Second Cup
Shatti Al Qurum
Tel: 800 77077 / +968 24 770000
Al Batinah
Location: Shinas
Shinas
Tel: 800 77077 / +968 24 770000
Al Sharqiya
Location: Near Sinaw Hospital
Sinaw
Tel: 800 77077 / +968 24 770000
Al Batinah
Location: Sohar Souq Near Shell Filling Station
Sohar
Tel: 800 77077 / +968 24 770000
Muscat
Location: near Maha Filling Station and Sultan Qaboos University
Al Khoudh
Tel: 800 77077 / +968 24 770000
Dhofar
Location: Sultan Qaboos Hospital Branch (Salalah)
Salalah
Tel: 800 77077 / +968 24 770000
Al Dakhliya
Location: Sumail Souq
Sumail
Tel: 800 77077 / +968 24 770000
Al Wusta
Location: Duqum Branch
Duqum
Tel: 800 77077 / +968 24 770000
Al Buraimi
Location: Buraimi
Al Buraimi
Tel: 800 77077 / +968 24 770000
Al Sharqiya
Location: Sur
Sur
Tel: 800 77077 / +968 24 770000
Al Sharqiya
Location: Sur Branch
Sur
Tel: 800 77077 / +968 24 770000
Al Dakhliya
Location: Nizwa
Tel: 800 77077 / +968 24 770000
Al Batinah
Location: near AL KARAMA HYPERMARKET
Suwaiq
Tel: 800 77077 / +968 24 770000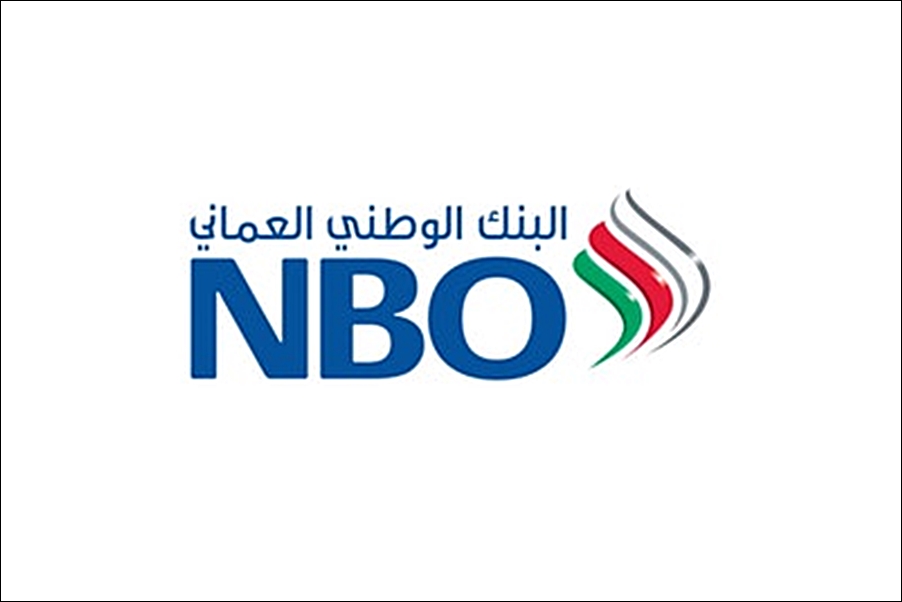 List of NBO Bank ATMs Locations in Oman
Al Batinah
Afi
Afi
Muscat
inside the Muscat Airport
Seeb
Muscat
Airport Departure
Seeb
Al Dakhliya
near Health center Al Hamra
Al Hamra
Muscat
Khoudh Souq
Al Khoudh
Muscat
Amrat Road 17,behind Sell Filling Station(Wadi Hatat)
Amerat
Muscat
Ametat Shell
Amerat
Muscat
Near OTE
Ghala
Al Dakhliya
Al Hamra
Al Hamra
Al Dhahira
Ibri Branch
Ibri
Al Sharqiya
Al Kamil
Al Kamil
Al Batinah
Bidaya Souq
Bidaya
Muscat
inside Wholesale centre-opposite Garden, Al Khoud Street
Al Khoudh
Muscat
Khuwair Souq
Al Khuwair
Muscat
Al Maha Filling Station
Seeb
Dhofar
Al-Saada
Salalah
Al Sharqiya
Al-Mudhaibi
Al-Mudhaibi
Al Dhahira
Al Murtafa Ibri Area
Ibri
Muscat
Bareeq Al-Shati
Qurum
Muscat
Abraj Al Sahwa building, near Azaiba R/A
Azaiba
Muscat
Near Mars Hypermarket
Wadi Kabir
Al Sharqiya
B.B. Ali
B.B. Ali
Muscat
near Farooj Resturant
Al Khuwair
Al Dakhliya
Bahla Souq
Bahla
Al Dakhliya
Near Court
Bahla
Al Batinah
Barka Souq
Barka
Muscat
Near Oman Medical College
Bousher
Musandam
Bukha branch near Bukha R/A, opposite OIFC company.
Bukha
Muscat
City Center
Mawaleh
Muscat
Corniche Muttrah
Muttrah
Al Dhahira
Dhank
Dhank
Dhofar
Dhariz Shell Filling Station
Salalah
Dhofar
near LULU HYPERMARKET-SALALAH
Salalah
Al Dakhliya
Nizwa College of Technology
Nizwa
Muscat
MBD
Ruwi
Al Batinah
Oman Oil – Near R/O
Sohar
Al Dakhliya
Fanja Souq – Near Shell
Fanja
Muscat
near Central Bank of Oman
MBD
Muscat
Ghala Oman Oil
Ghala
Muscat
inside Ahlain of Oman Oil near Bani Kuleeb Mosque
Ghoubrah
Muscat
Ghoubrah Suq
Ghoubrah
Dhofar
Salalah Hafa
Muscat
Honda Road
Ruwi
Muscat
CBD
Ruwi
Al Sharqiya
Ibra
Ibra
Al Dhahira
opposite ziyana pharmacy, Al Iraqi street
Iraqi
Al Dhahira
Ibri Al Akhdar
Ibri
Dhofar
Samaham Street, opposite Anas Bin Malik School, near Directorate General of Housing, New Salala
Salalah
Al Sharqiya
Al Ghanimyia Area, Hospital R/A,near Bani Bu Hassan Hospital
Jalan Bani Bu Hassan
Al Batinah
Khaboura
Khaboura
Musandam
Khasab Branch
Khasab
Muscat
Outside Kimji Mart, near Lulu HyperMarket
Wadi Kabir
Muscat
Khoula Hospital
Wattaya
Muscat
KOM
Al Khoudh
Al Batinah
Liwa Wincor FFM
Liwa
Muscat
LU LU HyperMArket
Darsait
Muscat
inside Lulu Wadi Al Bhais Street
Seeb
Al Batinah
inside Lulu HyperMarket
Barka
Muscat
inside LuluHyper Market
Ghoubrah
Muscat
Helat Al Nasr
Mabellah
Muscat
Near Bader Al-Sama
Al Khoudh
Muscat
Mabellah Souq near by Muzun Branch
Mabellah
Al Batinah
Musanna Branch
Musanna
Muscat
Marsh Hyper Market
Ghoubrah
Al Sharqiya
Masirah
Masirah
Muscat
Near City Center
Mawaleh
Muscat
near Fahad Blaza and Centre Point
MBD
Muscat
Near Shell Filling Station – PDO
Qurum
Dhofar
Mirbat
Salalah
Muscat
Near Ministry Of Health
Al Khuwair
Al Batinah
Musanah Colleage of Technology
Mulladah
Al Batinah
Makka Shopping Musna Offsite
Musanna
Dhofar
inside LuluHyper Market
Salalah
Al Batinah
opposite Oman Oil Filling station, there is (CCDM)
Sohar
Al Dakhliya
Nizwa Firq souq
Nizwa
Al Dakhliya
Nizwa Souq
Nizwa
Al Dakhliya
Nizwa University
Nizwa
Al Wusta
inside Oman DryDock Centre
Duqum
Al Batinah
Rustaq Branch
Rustaq
Muscat
near Civil Avation Buliding
Seeb
Al Batinah
Oman Oil Al-Auqda Barka
Barka
Al Batinah
Hambar OmanOil, Opposite of Sohar Hamber Branch
Sohar
Muscat
near Sultan Qaboos Mosque(Al Khoudh) and Oman Oil
Al Khoudh
Dhofar
near Aouqed R/A and beside Ahlain Oman Oil Fiiling Station Salalah
Al Dakhliya
in Oman Oil Filling Station
Bahla
Muscat
Oman Oil Bausher Near Lu Lu
Al Ghoubra
Muscat
Oman Oil Filling Station
Ghala
Al Dakhliya
in Oman Oil Filling Station
Izki
Muscat
inside Ahlain of Oman Oil, Hilat AL Nasr Area
Mabellah
Muscat
After Mabela Bridge
Mabellah
Dhofar
near Hamrair R/A
Saada
Muscat
Oman Oil – Burger King
Qurum
Muscat
near Al Khalili Building and Al Raffa Hospital
Ghoubrah
Al Batinah
Industrial Area
Sohar
Al Dakhliya
Nizwa College of Applied Science
Nizwa
Muscat
inside PDO main building
Mina AL Fahal
Muscat
Qurriyat
Qurriyat
Muscat
Al Araimi Complex
Qurum
Muscat
Near Sultan Qaboos Mousqe
Ruwi
Muscat
Ruwi High Street
Ruwi
Muscat
inside MEERA HyperMarket
Azaiba
Al Batinah
Saham Branch
Saham
Al Batinah
Saham AlJadeed
Saham
Dhofar
Salalah Airport Arrival
Salalah
Dhofar
near Aouqed R/A- New Raisut
Salalah
Dhofar
Salalah
Salalah
Dhofar
in Al Ferdows Street, near Bait Ferdows apartment, there is (CCDM) Salalah
Dhofar
Lulu Salalah
Salalah
Dhofar
An Naser Street, near Saada Suq,opposite Maha Filling Station
Saada
Muscat
Al Sawah Plaza
Al Hail North
Muscat
Seeb Souq
Seeb
Muscat
in Jawharat Al Shatti Area, opposite InterContenintal Muscat Hotel,near Second Cup
Shatti Al Qurum
Muscat
near KIMS Oman Hospital
Darsait
Muscat
Shell Filling Station (Airport)
Seeb
Muscat
in Shell Filling Station
Jifneen
Muscat
Near Shell Filling Station, Salaam Street
Mabellah
Muscat
Near Mabellah Industry Shell Gas Station
Mabellah
Muscat
in Sell Filling station, opposite Wholesale Market
Mawaleh
Al Batinah
Shinas
Shinas
Al Sharqiya
Near Sinaw Hospital
Sinaw
Al Batinah
Sohar Souq Near Shell Filling Station
Sohar
Al Batinah
Sohar Industrial – Near R/O
Sohar
Al Batinah
inside the carefour center
Sohar
Muscat
near Maha Filling Station and Sultan Qaboos University
Al Khoudh
Dhofar
Sultan Qaboos Hospital Branch (Salalah)
Salalah
Al Dakhliya
Sumail Souq
Sumail
Al Wusta
Duqum Branch
Duqum
Al Buraimi
Buraimi
Al Buraimi
Al Buraimi
Opposite Al Buraimi Hotel
Al Buraimi
Al Sharqiya
Sinaw
Sinaw
Al Sharqiya
Mars Hypermarket
Ibra
Al Sharqiya
Sur Global Village
Sur
Al Sharqiya
Sur
Sur
Al Sharqiya
Near Sur Hospital
Sur
Al Sharqiya
in Khimji Mart,near Oman Oil satation
Sur
Al Sharqiya
Sur Branch
Sur
Al Dakhliya
Izz
Izz
Al Batinah
Near Oman Oil
Al Awabi
Al Batinah
Dragon Center
Barka
Al Batinah
Oman Oil Al-Auqda
Barka
Al Batinah
Rumais
Barka
Al Batinah
Oman Oil Khabourah
Khaboura
Al Batinah
Al Mayar Musanna
Musanna
Al Batinah
Saham
Saham
Al Batinah
Oman Oil Shinas
Shinas
Al Dakhliya
Bahla
Bahla
Al Dakhliya
Nizwa
Al Batinah
Suwaihrah – Maha Filling station
Sohar
Al Batinah
Near Global Money Exchange
Sohar
Al Batinah
Near Oman Oil
Sohar
Al Batinah
near AL KARAMA HYPERMARKET
Suwaiq
Al Batinah
Oman Oil Bidaya
Suwaiq
Muscat
Near Shell Filling Station Thumrait
Thumrait
Al Dakhliya
Nizwa Temsa
Nizwa
Muscat
Seeb Soor Al Hadid
Seeb
Muscat
Nesto Hypermarket Al Hail
Seeb
Al Dakhliya
Al Jabal Al Akhdar
Nizwa
Muscat
Oman Oil Filling Station Al Hail North
Al Hail North
Muscat
Inside KM Hypermarket Al Khuwair
Al Khuwair
Muscat
Near Al Maha Filling Station
Al Hail South
Musandam
Musandam Tibat Border
Tibat
Al Dhahira
Amlah Souq
Amlah