The Bank Nizwa in Oman started its operations in January 2013. It is one of the best banks in Oman which follows the Shari'a compliant products and services. They cater to small and medium-size corporations, enterprises, and government institutions.
Also Read: List of HSBC Branches and ATMs in Oman
This bank aims to be the choice of people in Oman. They are fully equipped with impressive banking systems and software which gives the best Islamic banking experience. They offer many financial services and products.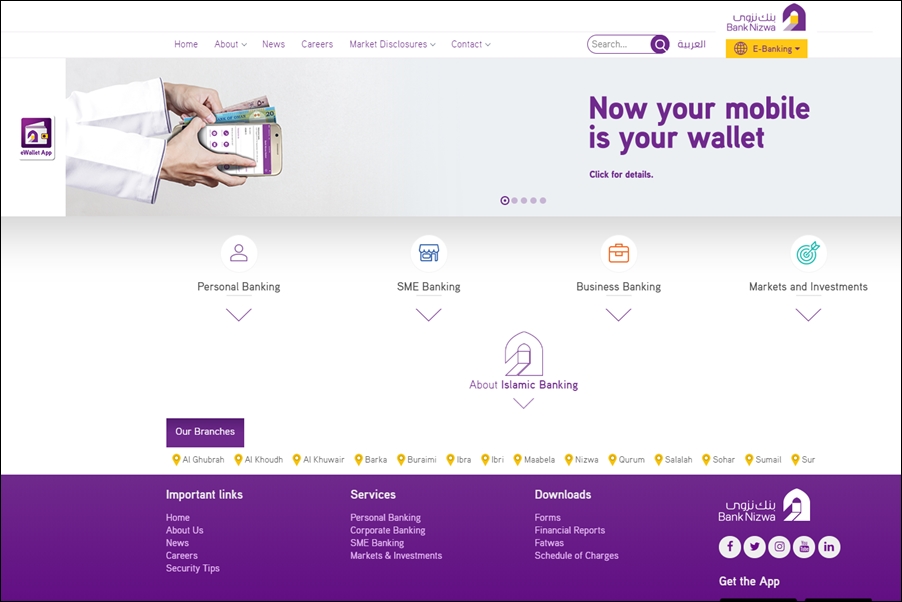 Bank Nizwa And ATM Machines In Oman
Below is the list of Bank Nizwa found in Oman, including their address location. So it will be easier for you to check if the branch is in your area, please do a "CTRL+F" search on your keyboard and type the bank name or location.
Al Ghubrah Branch
Location: Bank Nizwa, Al Ghubrah Branch
Tel: 24655096
Ramdan Timing: 9am-1pm
Al Khoudh Branch
Location: Bank Nizwa, Al Khoudh Branch
Tel: 24655254
Ramdan Timing: 9am-1pm
Al Khuwair Branch
Location: Bank Nizwa, Al Khuwair Branch, P.O.Box 1423 P.C. 133, Sultanate of Oman
Tel: 24655174
Ramdan Timing: 9am-1pm
Barka Branch
Location: Bank Nizwa, Barka Branch
Tel: 24655155
Ramdan Timing: 9am-1pm
Buraimi Branch
Location: Bank Nizwa, Buraimi Branch
Tel: 24655011
Ramdan Timing: 9am-1pm
Ibra Branch
Location: Bank Nizwa, Ibra Branch
Tel: 24655082
Ramdan Timing: 9am-1pm
Ibri Branch
Location: Bank Nizwa, Ibri
Tel:24655225
Ramadan Timing: 8am-2pm
Maabela Branch
Location: Bank Nizwa, Maabela Branch
Tel: 24655165
Ramdan Timing: 9am-1pm
Nizwa Branch
Location: Address: Nizwa, Sultanate of Oman
Tel: 24655002
Ramdan Timing: 9am-1pm
Qurum Branch
Location: Bank Nizwa, Qurum Branch
Tel: 24655001
Ramdan Timing: 9am-1pm
Salalah Branch
Location: Bank Nizwa, Salalah Branch
Tel: 24655220
Ramdan Timing: 9am-1pm
Sohar Branch
Location: Bank Nizwa, Sohar Branch
Tel: 24655003
Ramdan Timing: 9am-1pm
Sumail Branch
Location: Bank Nizwa, Sumail Branch
Tel: 24655140
Ramdan Timing: 9am-1pm
Sur Branch
Location: Bank Nizwa, Sur Branch
Tel: 24655121
Ramdan Timing: 9am-1pm