UPDATE: Please note that One Health Pass online is no longer operating and all travellers to the Philippines must register for an eTravel card. Please follow this post for your reference – eTravel Registration Pass Guide to Philippines for Travellers
At the turn of the year-end, things have started to get much better than when it started. First, because the pandemic or at least its effects are starting to die down as of late. And second, Filipinos in Oman won't have to worry as much when traveling back home, because the sultanate along with neighboring UAE are now among the green list countries according to the foreign affairs department of the Philippines.
As a green list country, travellers from Oman will no longer have to undergo quarantine upon arrival in the Philippines. This is great news for all of our kababayans from the Gulf State – some of which, may have been waiting for months, even years to come home. This time, coming home to your families will be your best gift this holiday season.
Guide in One Health Pass Registration for Filipinos Based in Oman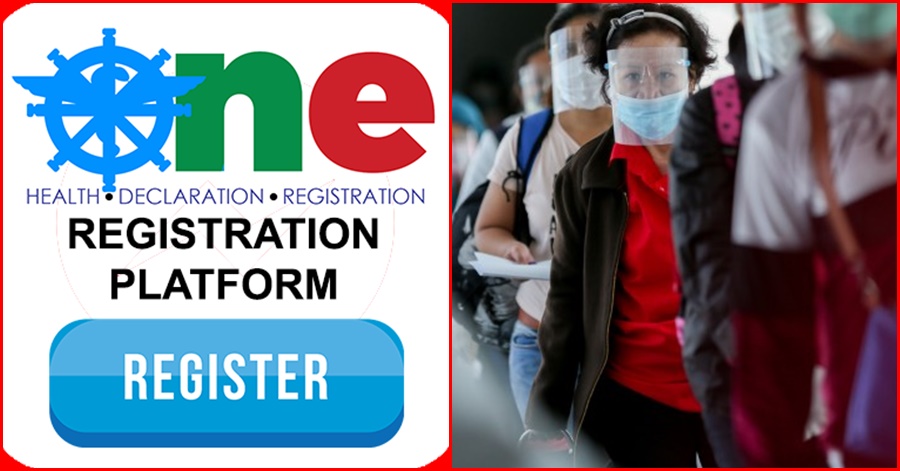 Still, despite the ease of travel restrictions, there are requirements every traveller needs to comply with, an in this guide, we will focus on the One Health Pass. From September 2021, all airports in the Philippines will have to require travelers to register in advance for the One Health Pass. Ready to know more? Read until the end of this guide to learn all about the new online registration system.
Through the new streamlined travel system, Filipinos will be able to easily enter and exit the country.
This system will allow you to easily and seamlessly travel between Oman and the Philippines. It will also help monitor the safety and welfare of the Filipino workers in these countries during this pandemic.
What is the One Health Pass?
One Health Pass is a unique system that enables travelers to easily and securely submit their health information online.
This system eliminates the need for travelers to deal with additional paperwork, since everything can be done online. This way, the system can help minimize the risk of travelers getting exposed to those with the virus, especially at the airport or in-flight.
What are the Requirements?
Data collection and management are at the core of this new and timely system for travelers and Filipinos leaving or returning to the Philippines. This is very useful for all parties involved, including the national and loccal government as well as the individual, since they are spared from delays and the trouble of producing or handling large volumes of data manually.
By submitting your details, you are giving permission for the authorities to use and collect information about you for the benefit of the local government.
You can also submit the health declaration and the registration form at the One Health Pass website.
In line with this, you will also need to present your travel documents such as your passport and plane ticket.
Qualifications
All Filipinos who intend to travel or visit another country starting September 1, 2021, must register with the Bureau of Quarantine (BOQ) to avoid getting stranded. This also applies to all travellers, whether Filipino or foreign nationals who will be traveling to the Philippines during the system's effectivity period or until travel safety protocols during this pandemic applies.
Features and Benefits
There are very good reasons why authorities enforce the use of the One Health Pass for all travellers. Here are some of them:
The One Health Pass eliminates the need for passengers to carry a large number of paper documents.
Limiting their mobility within the airport also helps lessen their virus exposure.
Travelers can save time and money on processing fees because the airport and other relevant authorities have access to this digital platform.
The system has several capabilities that allow you to track and record all of your data in a secure cloud. This decreases the amount of human effort necessary to collect and validate all essential data. It also allows you to focus on preparing for your return to work.
How to Register via the One Health Pass (7 Steps)
Now that we know the importance and benefits of the new system, here are the steps on how you can register online:
Pre-Departure
Step 1: To get a transaction number, Filipinos going to or from the Philippines should register at least three (3) days ahead of time on the One Health Pass website (https://www.onehealthpass.com.ph/e-HDC/).
Note: [For those coming from yellow or red list countries] Non-OFWs and international nationals must book a ten-day Quarantine Hotel reservation. To find out which hotels are approved, go to www.onehealthpass.com.ph/quarantinehotels/ and look for a list of approved hotels. OFWs, on the other hand, will not be affected because they will be sponsored by the OWWA.
Step 2: Once the system has created your record, take a screenshot of it. When entering the Philippines, authorities will require you to present this information.
Step 3: You must complete a health declaration checklist within 24 hours of your flight or before boarding.
Upon Arrival
Step 4: Show your OHP personal QR code for verification and hotel assignment when you arrive. After that, you will be escorted to an immigration official-led orientation before receiving immigration clearance and being routed to your transportation service or quarantine hotel.
Step 5: To clear your arrival, go to the Immigration Bureau, then to baggage claims and customs inspection.
The One Health Pass System will notify your local government unit of your travel status and if you are now permitted to travel overseas for employment or pleasure.
Step 6: Then you'll be told to employ a pre-arranged or certified mode of transportation.
Step 7: [For those who must undergo quarantine] You will be given your COVID-19 test result as well as a quarantine certificate once your quarantine period has ended.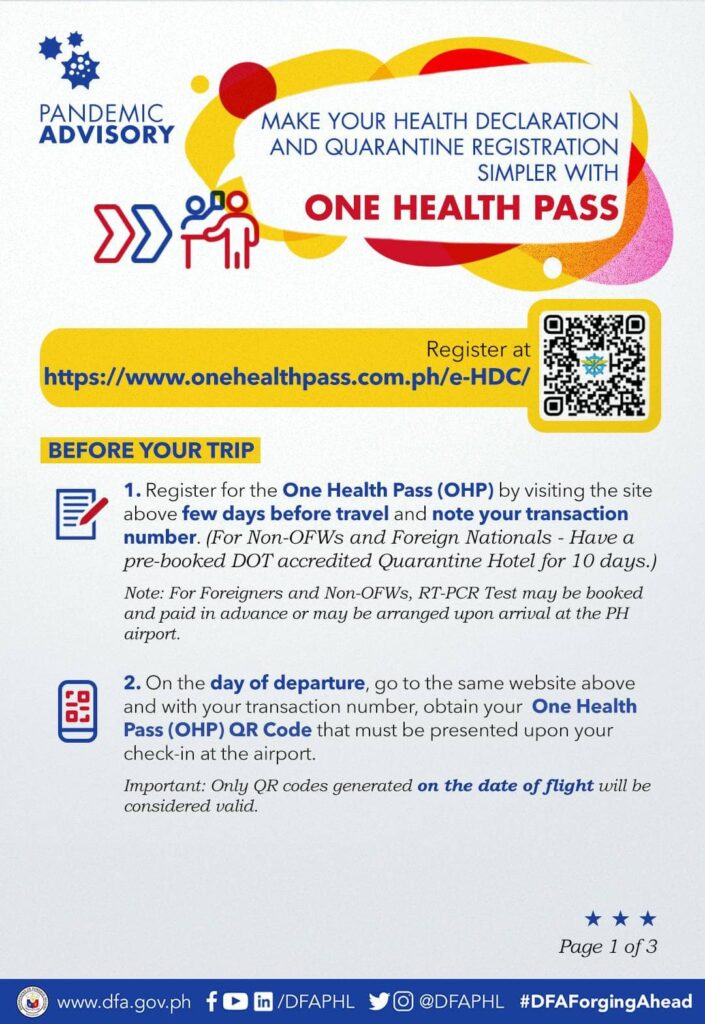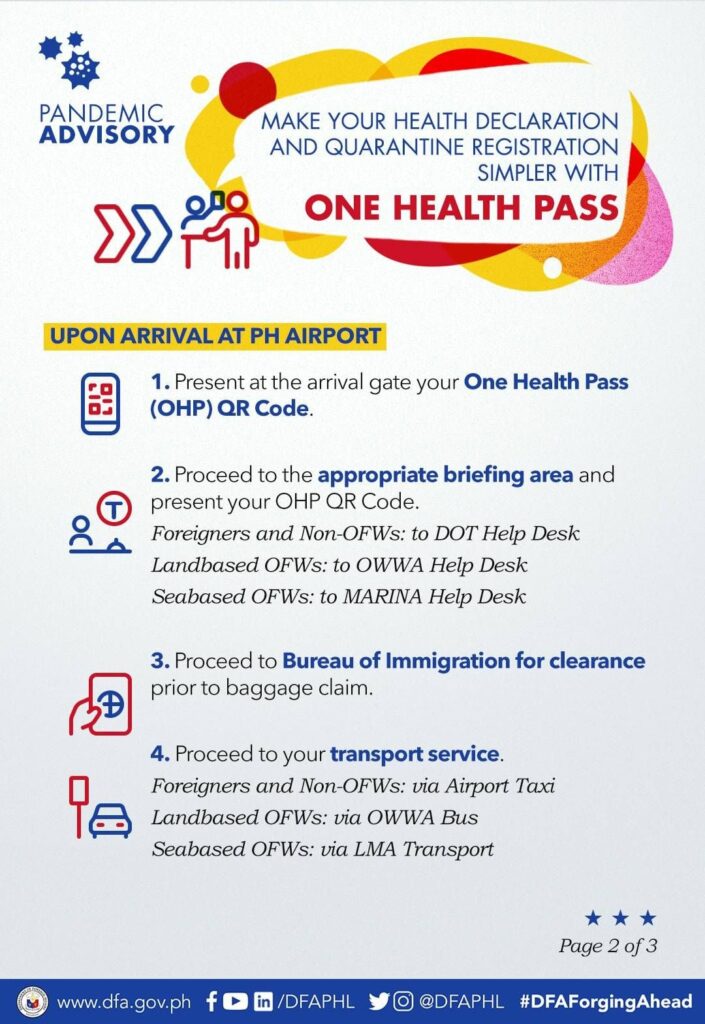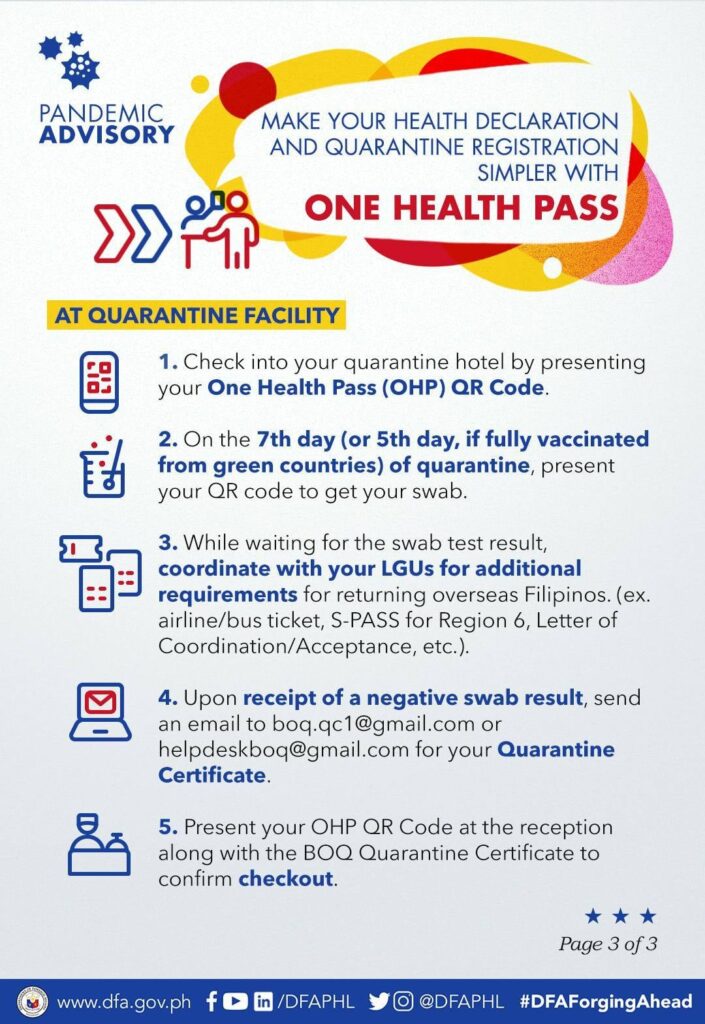 Video: Simple Guide to Registering for the One Health Pass
In this video, a Pinoy YouTuber discusses the One Health Pass's numerous requirements and eligibility. The video also demonstrates how to sign up for the pass and obtain a QR code.
The new online system, which was introduced in September 2021, would require all OFWs, overseas Filipinos as well as foreign travelers to register.
You must also meet other conditions before travelling to the Philippines, in addition to registering in the One Health Pass. When travelling to and from the country, as well as at your local destination, you should be informed of the numerous travel requirements.
Frequently Asked Questions (FAQs) Regarding the One Health Pass (OHP)
Because the OHP is still a relatively new system, we've compiled a list of frequently asked questions about it.
Is there anything I need to pay to register in the OHP system?
No, there are no costs for registration on the system. When you return to or leave the country, you will just need to provide information online and submit your data for national and local record-keeping, tracking, and monitoring purposes. As a result, you must give current and correct information about your employment, health, and citizenship status as an OFW/Filipino citizen.
What is the best time to register for the OHP system?
To avoid wasting time at the airport, complete the registration and health declaration forms on the One Health Pass website up to three days before your flight. You can still fill these out at the airport, but it's preferable to do so ahead of time and in the privacy of your own home so you don't feel pressured or forced to do so on the spot.
What other documents do I need to bring with me to the airport when I arrive?
Passports, plane tickets, and now your vaccination certificate must be presented at the airport upon arrival. To save time at the airport, fill out the registration and health declaration forms on the One Health Pass website. However, you may still complete these forms upon arrival. That being said, do it early and in the privacy of your own house (up to three days before your arrival in the Philippines).
Is it necessary for me to download an app on my smartphone in order to register?
No. The OHP is a mobile-optimized information system that works well across several devices. It provides a simple and secure manner of accessing information, and it is designed to work easily across several devices.
I am not an OFW, but rather a vacationing overseas Filipino. Is it necessary for me to register as well?
Yes, all tourists entering or leaving the Philippines, whether on business or pleasure, are required to complete the online form. OFWs must use caution when referencing a quarantine facility/hotel on their documents since the OWWA will place them in one. According to local government regulations, all other travellers must mention on their forms that they are traveling to the Philippines on their own initiative and will be liable for any expenses incurred as a result.
Final Thoughts
Even here in Oman, restrictions are starting to relax, which is a positive thing. This means that those who haven't returned to their homes yet, such as OFWs based in the sultanate, can now book their tickets back home to see their families. However, in order for this to happen, certain requirements and criteria must be met. One of them is to register in the One Health Pass. We hope that through the help of this guide, our Oman-based kababayans will be able to travel easily to and from the Philippines, especially now that the holiday season is upon us.
READ NEXT: 5 Must-Visit Nature Reserves in Oman