If you're living or working in Oman – chances are that you've noticed that there are only selected stores that sell alcohol and ask for a liquor license. Tourists and residents should first consider Oman as a Muslim state. According to Islamic tenets, the purchase and consumption of alcohol within Oman are culturally forbidden. But as an expat, you can legally drink in Oman so long as you get an alcohol permit. This article aims to guide you how you can apply for a liquor license so you can legally drink and purchase alcohol in the Sultanate.
Also Read: Guide to Getting a Driver's License in Oman
That being said, the government has made particular exceptions to this regulation to accommodate tourists and expatriates. Alcohol, which may be beer, spirits or wine, is available at liquor establishments, specific hotels and restaurants, and airport duty-free stores.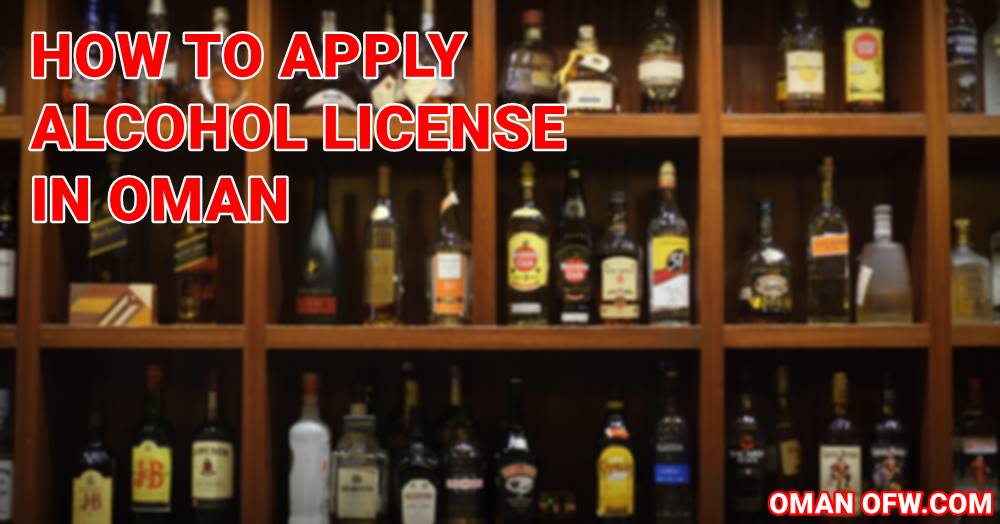 Step-by-step Guide on How to Apply for a Liquor Permit in Oman
Almost all of the outlets are located within the major hotels, and a few independent places are dotted around the country. Filipinos and other expatriates are allowed to buy alcohol from the mentioned suppliers though they too have to carry a liquor license. Even then, a person purchasing alcohol at the airport is limited to 24 cans of beer or two bottles of wine/ spirits. They ought to be also over the age of 21.
A non-Muslim with a resident visa is allowed to apply for a liquor license and keep alcohol in their home. However, the amount they buy needs to be directly related to the salary they earn. In so doing, the value of the alcohol bought should not exceed 10% of their monthly income.
Requirements for Alcohol Permit in Oman
Below are the requirements you need to bring when you apply for a liquor license:
No Objection Certificate from your sponsor (with monthly salary and designation with authorized signature and should be written in Arabic and English
Photocopy of passport with valid residence visa
Photocopy of Resident Card and Resident Card Application form issued by the Ministry of Manpower (bring the original form)
2 passport size pictures (in blue background)
Liquor licenses are enforced and provided by the Royal Oman Police, which regulates alcohol-related issues in the country. It is worth noting that alcohol licenses are not governed by the Royal Decrees or even ministerial intervention.
The ROP is an independent body which pursues the internal regulation of alcohol within the country. In so doing, they only permit hotels, restaurant owners, alcohol suppliers, or duty-free shops the license to sell alcohol at their discretion.
For one to get a liquor license to supply or consume alcohol in Oman, they should use the following process:
Supply a written request with supporting documents for the liquor license to the ROP. These include passport photos, passport and labor card, employment contract, and No Objection Certificate. The task of the ROP would be to review and assess the request and then give a decision according to their case analysis results.
The applicant would have to make sure the premises are NOT located within a kilometer radius of a mosque.
Proximity considerations of the applicant's premises to any residential areas.
Religious considerations when it comes to supply and consumption of alcohol in public places.
Proper classification for the establishment according to rating as displayed in decision 39 of 2016 of the Ministry of Tourism which is to be given with the written request.
The last criterion means the applicant who is a supplier would have to be grouped as a first-grade category entity as provided by the Ministry of Tourism. The Ministry assesses the application on the degree of their service.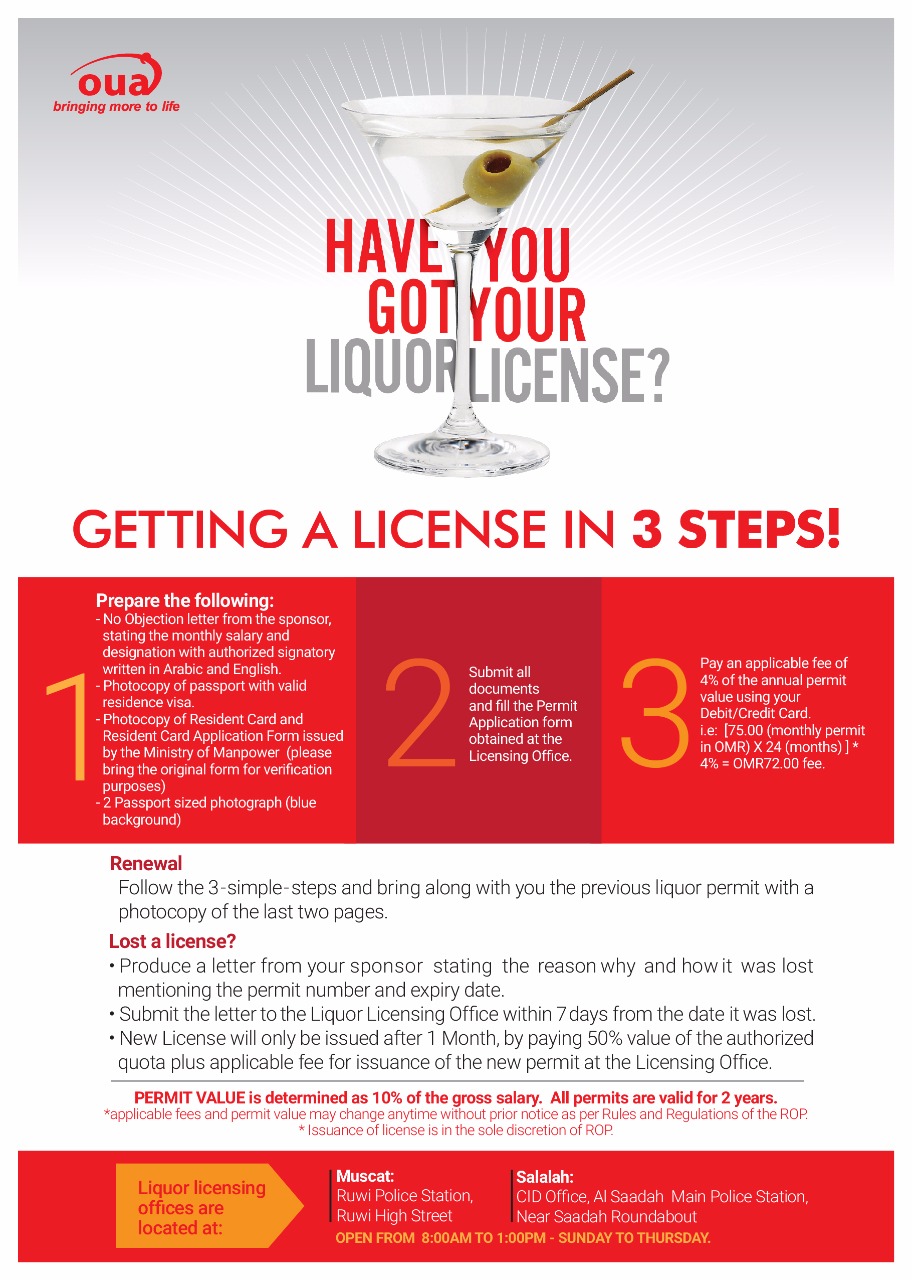 The application process is meant to be simple and effective for both suppliers and consumers, though it is intended to keep a sensible separation for the sake of underlying religious and cultural facets. The license is valid for a time of two years and renewal entails submitting the same supporting documents along with the expired license.
Where to Apply for Alcohol License
Liquor licensing offices to submit your application can be found at Ruwi Police Station or Salalah CID office, below are their details:
Muscat: Ruwi Police Station, Ruwi High Street
Salalah: CID Office, Al Saadah Main Police Station, near Saadah Roundabout
Office Hours are from 8am to 1pm every Sunday to Thursday
Where to Buy Alcohol
Below are the places where you can purchase liquor. Make sure that you buy alcohol in authorized retailers only! Good to keep the receipts of these purchases.
Shop/Office: Oman United Agencies (OUA)
Phone: +968 24643333
Website: www.ouaoman.com
Shop/Office: African & Eastern (A&E)
Contact Number: +968 23467817
Website: oman.africaneastern.com
Shop/Office: Gulf Supply Services (GSS)
Contact Number: +968 2448 2333
Website: www.gulfsupplyoman.com
Renewal of Alcohol License
In case you need to renew your license, you just basically need to bring your old license and
If you're in need of alcohol in Oman, you should first consider applying & acquiring a liquor license to avoid trouble & paying fines. Also, once you have acquired a license for alcohol consumption, always remember to drink responsibly.
Another reminder to everyone, although you may have a liquor license now, please make sure to not abuse it and for those who are driving, please remember that driving while under the influence of alcohol is dangerous and prohibited.